Travel
Iceland - so strange and so remote, but accessible to any
Iceland is difficult to name one hundred percent European country. Too much everything here is not of this world: nature and kind of weird, and the architecture is too extravagant. And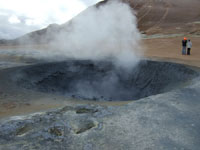 in general, to get to Iceland - how to visit the other, very much unreal world. That's why there is this myth that travel on this fantastic island, as well as all the exotic, it is worth a lot of money. However, this is true only for those who appreciate comfort too, it is preferred to travel "on tour". Same independent travelers, adventurers will be in Iceland feel completely at ease, because the main treasures of the country is completely free!
How to save the budget, if you want to enjoy the beauty of one of the most expensive countries in Europe?
At first glance it may seem that crazy money is only flight to Iceland. Indeed, the cost of direct flights exceeds $ 1000. However, some Icelandic airline is pretty cheap to fly to Europe. For example, in Sweden. And to get to Sweden from Moscow can be via St. Petersburg and Finland by train, bus or ferry. It is clear that this kind of "trip" to Iceland in a couple of days, and require a lot of organizational strength, but it attracts the price issue - almost two times cheaper than direct flights and at the same time the opportunity to visit Helsinki and Stockholm. Inquisitive travelers to easily went out and brought another couple of ways by which you can reach a distant Iceland expensive $ 500.
Now, about your stay on the island. Iceland is located right at the junction of two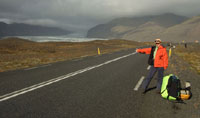 lithospheric plates - the Eurasian and North American, that is in an area of high seismic activity. Local landscapes - bizarre lava fields, canyons, mountains and glaciers shedding from a great height waterfalls, deserts of black volcanic ash, volcanic craters, fjords. The island is literally boiling inside, and the seething power breaks out geysers, gurgling sulfur pools, natural thermal pools. It is clear that the local population problems with hot water there, because even the sidewalks in Reykjavik are heated all year round!
And now a pleasant surprise - to access all the main attractions of Iceland, and is, basically, amazing natural wonders, absolutely free! To stroll through the national reserve of Thingvellir and the Valley of Geysers, all the most beautiful waterfalls Godafoss, Detifoss, Gulfoss, Skogafoss and many others, look at the lagoon of icebergs, no need to buy "entry" tickets. Of the gifts of Mother Nature is not done the tourist "doilku", which is especially nice.
From hotels and transport, the situation is also not as bad as you can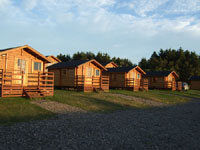 expect in one of the most expensive European countries. Of course, stay in comfortable hotels and rental cars, and because the landscape is given to hire mostly jeeps, flying in a lot of money. Good hotels are few and the majority of them are overcrowded, and the price of gasoline is able to horrify any motorist. But the self-traveling aliens are very popular hostels and campgrounds, the latest, by the way, in many parts of Iceland are the only place suitable for an overnight stay. Therefore, preparing for a trip to the island, do not forget about the tent and sleeping bag, and another on a waterproof jacket, trekking boots and warm clothing - Iceland's weather is famous for its strong winds and frequent rain.
Campsites are equipped with nearly every town and close to all major attractions.In Reykjavik campsite situated especially well - right about the thermal swimming pool. In the camps there is everything necessary for life: kitchen, shower, toilets. Here you can find any information about the country, take a bicycle, buy a map or, for example, gas for the burner. For those who are tired of camp life, some campgrounds offer a small wooden houses for 2-4 people. Is it worth the higher price, but sometimes, especially in heavy rain, so nice to sleep on a normal bed, and under this roof.
The order price is very diverse. Hotels - from 90 Euro for the "two stars", and 150 Euros for convenience chetyrehzvezdonye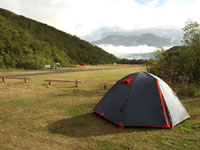 overnight. Hostels - 15-20 Euros. Camping is even cheaper - to 5 Euros. Cabins in campsites - 15-20 Euros per person
Iceland has no railways, but there are buses on which to travel. One problem, they go quite rare, and tickets are expensive by European standards. And here is the cheapest way to travel to Iceland - hitchhiking. Hitchhiking is picked up quickly and easily while on the road to happy to talk about life in the country. Ride can and prominent Icelandic architect, and a simple farmer, and Polish immigrant, and American tourists, he travels around the island in a rented car.
Main road, one is in fact the only place around the entire island and is the proud "Number 1". On it or near it are almost all the famous sights. True it is worth considering that in the eastern Iceland, the most distant from the capital, Reykjavik point on the road is not so many cars, so the speed ride to markedly reduced. This is where you can take the bus.
For renting a car will have to shell out from 650 Euros per week. Prices for buses depends on the distance of your route. Per 100 km. Ways have to shell out about 20 euros. Rent a bike is much cheaper - 10 euros.
Travelling around Iceland can take anywhere from one to two weeks, depending on the time of "parking" some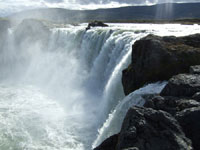 particularly liked the seats.
With regard to food and entertainment, in Iceland there are opportunities for every budget. Cheapest way to cook food in the camp, buying food in supermarkets, and most affordable pleasures - trekking, biking and swimming in hot springs in Iceland, of which scattered a large quantity. But, of course, want to try and something exotic. It is worth spending, such as a trip to a local restaurant with a tasting of Icelandic delicacies - akulyatiny and potato vodka, or venture on a hike with a guide on the glacier, diving in the breaks between continents, a walk through the mountains to the scrubby Icelandic horses, trophy-raid on a black desert ...
You can dine in the restaurant from 10 to 50 euros. And join all sorts of extreme entertainment - from 200 Euro.
Every traveler who decides that it more interesting. The main thing is that Iceland, a country and so far, is available to everyone!
Tatiana Kozachenko
Click here to see this article in russian: Исландия - такая странная и такая далекая, но доступная любому
parhomenko
©2006-2020 All rights reserved