Sport
Velotrofi - a survival strategy. A bicycle on the road - the pleasure of the difficulties
When it becomes a little simpler pokatushek bike in my area, we select the countryside, away from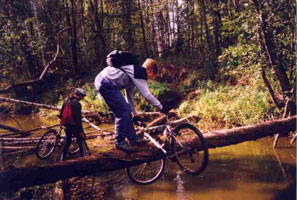 metropolitan bustle. When it gets boring just riding on asphalt roads, we are looking for new opportunities, for example, turn off the pavement on a forest path. Over time, you realize that ride on an unpredictable off-road many times nicer and more interesting. On the other hand, and much harder than on the flat asphalt. Velotrofi - namely the so-called Bicycle Tours on rough terrain - a special treat for fans of two-wheeled adventure.
Dirt roads, forest clearing, barely visible trail - it's all part of the route of any velotrofi. And that was interesting - a windbreak and impassable thickets, sunken track half-forgotten trails, and, eventually, these marshes. The beauty of this pokatushki - the ability to be alone with nature, away from cars and people, to hear birds singing and the sound of leaves - the sounds of the forest is not damaged the sounds of civilization.
And yet it is a real adventure in which you - the discoverer. Ride on the road, which go only a single mushroom pickers, and ride a timber. Find more mysterious in a remote hut on chicken legs, that she does not belong to Baba Yaga, and all of a forester. In the open field, away from villages and hamlets suddenly stumble upon an old, dilapidated church, is still attractive, let alone and forgotten. Or found on the edge of the thicket of wild strawberry, which is not reached before summer visitors, and make a small forest feast. And in the hottest time of the best - open the secluded pond or lake with clean water. Water Treatments at rest brings a lot of joy.
But all these findings and experiences are given a reason. To discover something interesting, you need to get away. A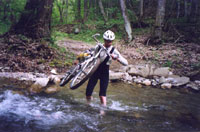 it is not easy. Sometimes you have to drag a few miles on his bicycle through the fallen trees, fighting off hordes of mosquitoes, or to take this mud baths, wading in the rain eroded clay-sandy road through the field. A trip on the road provides an opportunity to test themselves, their strength and character. But the difficulties are justified if you - an adventurer on two wheels.
Here are some tips for those who dare to present velopriklyuchenie. First of all, equipment. Mindful of the fact that the bike is not always you, but sometimes you carry a bicycle, iron your friend must be lightweight, but durable. That is, at least with an aluminum frame. Since the ride will have on the ground, sometimes viscous sand or clay, tires should be wide and with spikes. " Narrow road racing tires here will bring only trouble. Desirable - the front shock absorbers. In general, it should be a mountain bike for cross country. Always with you need to have a pump, spare camera and a set of tools - to get a puncture, wandering on the road, simple.
You can also easily scratch on the branches, hitting a fall or get other minor injuries. Therefore, a first aid kit with a haemostatic, analgesic, bandages and plasters to be with him on a mandatory basis. Preferably, of course, wear a helmet to help protect your head
from serious injury, for example, from a strong twig. And if not a helmet, then at least glasses to protect eyes from the bright sun, dust, insects, and, again, pesky branches.
If the trip is planned with an overnight stay, that is, with a need to take a tent, sleeping bag and food, is worth thinking about, what is all this good to drive. Universal solution to this problem is not.On the one hand, there are special veloshtany - bag, worn on the trunk of the bike. Its obvious advantages - fully discharged back and shoulders, but there are drawbacks. If you have to carry the bike on your hands (move "velopeshkom"), he will no longer be so easy, because on it the whole deposit. On the other hand, conventional backpack, the loading arms, but more convenient when you move on especially impassable places. Everyone decides for himself.
The ability to correctly plan the route - one of the main conditions for a successful campaign, along with the ability to target areas. Velotrofi if we're talking about his most accessible suburban form, usually lasts one to two days with the calculation of 60-100 km. per day. Attractions can be found anywhere, even around your problem, even though tens of kilometers from Moscow. The easiest way to take advantage of ready-routes, which have already moved brave cyclists. However, much more fun to come up with a way to find your treasure in the form of previously unexplored beauties of nature or human creations. Only important to remember that, for example, indicated on the map the track was, in fact it may be littered with windbreak and move on it will take more than one hour. Better for all possible movements and workarounds.
Detailed maps of the terrain ("kilometrovki" or, better yet, the 500-metrovki "), printed satellite images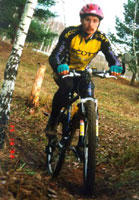 (Easily available online) and a compass - required attributes orienteer. Modern technology, however, offer an easier way - GPS-navigators. However, they do not always catch the moon and quickly discharged, so the traditional map and compass for their own security is best not ignored.
In addition to free pokatushek with a free choice of roads, in Moscow and Moscow region, as well as in St. Petersburg and many other cities in Russia are often competitions in velotrofi. There is already possible to not only show themselves, but others see it.
And, of course, to participate in velotrofi, need no little stamina, both physically and morally. Physically much harder to drive 50 km on the ground than on the asphalt, and the difficulties expected and unexpected, can easily break the tired and weary man. All addresses training, because the larger skate - the fitter you become. In general, do not look for easy ways, because mostly it is difficult road - the most interesting, or at least the most memorable.
Tatiana Kozachenko
Click here to see this article in russian: Велотрофи – стратегия выживания. На велосипеде по бездорожью – удовольствие от трудностей
parhomenko
©2006-2019 All rights reserved