Health
How to survive the summer in the office
Summer associates have the sun, the beach, greenery and relaxation. However, work is also necessary, and some do not even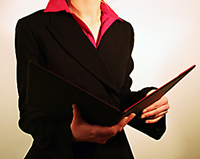 will go on vacation this summer. Have to put up with years of existence in the office and decide how to make it easier and more enjoyable.
Clothes.
Dress code does not exist in every company, and for many the choice of clothing for work is limited only by your imagination. However, the office - it is still not a beach, and set the framework should adhere to. Unconditional hit - a summer office clothing - linen suit lighter shade - beige, blue, light gray. It differs versatility and convenience. In general, light colors and natural fabrics (linen, silk, cotton) - the best choice if you need to spend a summer day on the job. Can afford the absence of a jacket and shirt with short sleeves. In this case we can abandon the tie - agree, with a summer shirt, he just does not look. However, the assumption of certain liberties in the clothing does not mean you can go to work in short shorts or shirts with a deep neckline. May, of course, this is not so hot, but the mood is definitely not working, and you and your colleagues who have all day to watch you. So you should still keep yourself within, or "beach" mood simply will not allow to effectively carry out the necessary work.
Decline in activity.
Many of the summer complaining about the decline in activity. Hot, stuffy and thoughts about the blue sea and warm golden fine sand prevented to concentrate. Want to afford to be lazy, lie down, fanning herself, did not respond to calls and e-mail. However, this can and must be combated. The first condition is - is a comfort. Of course, since no armchair (though this is not bad), and climatic comfort. First, you must choose the right clothes (see above), secondly, take care to purchase the air conditioner. Of course, one can not just go and bring yourself to work air conditioning, but if the boss is not worried about this issue is the question raised. In the end, it is necessary for efficient operation of the company.
Do not forget to take energy from fresh fruits and vegetables, because the summer m they are many and they are fresh as ever. Light lunch will provide a vitamin boost your vitality and business activity. In hot weather is especially important not to forget about the large number of drinking water.
Try to make your holiday mood created not only a high temperature, but the situation around: you can decorate your workspace with bright pictures, put the flowers, pick a lively screensaver for your desktop. All this will help energize and work with the upbeat mood.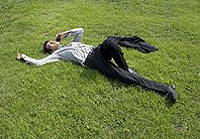 Corporate parties.
Summer - the best time for various corporate events. Here it is - a real opportunity to break out of the office for a picnic or barbecue for the benefit of the company. In addition, the summer is convenient to carry out various training games and competitions in the open air - rope training, paintball, team competitions. These field sessions will strengthen the team and will work more harmoniously and cohesively. In addition, there are various programs of summer training for the staff - they may be held in various camps and lodges, and to combine learning and communicating with each other.
After office.
Your health in the workplace, not least depending on how you spend your time outside of work. Allow yourself not to run with the crowd in the subway, coming out of the office. Stroll through the summer the city - after all the summer evenings no less beautiful than the summer days!
iktoriya Vasileva
Click here to see this article in russian: Как пережить лето в офисе
parhomenko
©2006-2020 All rights reserved