Health
The main fear of modern urban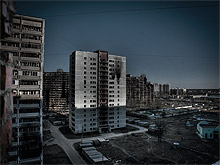 Do you often go out away from the edge of the platform in the subway, because you think that now there is some lunatic who decides to push you back on track? Or climb the stairs on foot, fearing that the elevator will fall? Maybe not exactly those thoughts, but some fears are present in most of those who read these lines.

Of course, the world is full of dangers, but the human brain is still often exaggerate their degree of turning into real fears phobias. Phobia, by and large, invented fear. It is ungrounded and is a mental disorder whose causes are hidden deep in the subconscious. Nevertheless, many of them are the same for a variety of people. However, some phobias inherent rather large number of people living in big cities. What are afraid of modern city dwellers?

The first is, of course, underground. For example, in Moscow on 70% of residents have fears about the subway. Who is afraid of falling under a train, someone - a terrorist, but someone thinks he can fall off the escalator. Especially widespread fear of falling back on track. However, this is not a meaningless phobia - this happens from time to time, increasing the level of fear among citizens. But it's worth noting that according to statistics Moscow Metro - one of the safest in the world!

Another common phobia - fear of being in a confined space: elevator, tunnels, again, the subway cars. This fear is called claustrophobia and of the usual inhabitants of megacities. The causes of claustrophobia individual: someone she can start to develop after the elevator got stuck out in a couple of hours, someone simply stories about what might happen, but someone's fear of fact are not justified and are unsubstantiated.

The inhabitants of the center is the fear of the city outskirts. They think it's worth to get into the sleeping area, as they immediately attacked by thieves, rapists or murderers. This fear is reinforced by the constant talk about the criminality of certain areas. In Moscow, it can be Butovo in New York City - Harlem, in other cities have their own areas in which the residents of the center to be afraid to go. Although the risks associated with crime can actually waiting for them in any area.

In Moscow, people fear and terror attacks, acts of citizens of non-Slavic nationalities, and even man-made disasters. Especially surprising is the fear of natural disasters, because they are in Moscow simply does not happen. However, as mentioned above, phobias usually are without apparent rationale. At the same time in Moscow there are no such fears, as fear of fat people, skyscrapers, large garbage dumps, and weekends, and in New York, they are quite common.

Many fears arise because of the constant flow of negative information: the media every day about different disasters, pumping environment and increasing anxiety. Information about global warming, ozone holes and hurricanes merges, and the usual storm warning draws in people's imaginations terrible pictures of death. Strong emotions caused by these pictures, much more logical arguments.

Its role and advertising, including social. "AIDS is not asleep," "One out of ten ill with hepatitis C and other high-profile project make statements all the diseases themselves and constantly suspicious of a terrible disease.. Ideal promotional pictures convince people in their own imperfections: tooth decay, dandruff, premature wrinkles and other flaws are perceived as something that is absolutely not allowed and will not allow a man to exist in modern society.

Most often, different fears vulnerable socially successful people who have attained a high status and occupy significant positions. This is due to the fact that the rhythm of their life is very stressful, but the degree of responsibility is high. Constant voltage provokes various psychoses, including fear of not cope with the work, fear not understand the scientific terms, the fear of the computer or telephone conversations.

When complete logical unfounded phobias people who suffer from them, are not at all stupid or weak. Many of the great of this world have suffered various obsessive fears. For example, Napoleon was afraid of white horses, Caesar - thunderstorms, Nikolai Gogol - being buried alive, and Joseph Stalin in panic afraid of flying. A famous American billionaire Howard Hughes is constantly afraid of catching an infection - he is constantly rubbing his hands with napkins and tried not to dokatatsya even to his wife. At the end of his life, he almost did not eat - the food seemed too dangerous.

Fears grow and multiply normally in a stable period of life when a person may long to think about life and death and give free rein to the imagination. In the past few years in the metropolitan hospital with the problems of obsessive fears people are turning more frequently than in the early 90's or during a crisis in 1998. This is due to the fact that when a person gives up all power to solve urgent problems, he had no time to listen to him. That is why in countries with high living paranoid sentiments are more common.

At the root of all these experiences - a primal fear of death, just one paints a picture of his death in his own way. Must be combated, because the constant fear interferes with normal life. Agree, it's silly to die from the fear of death.
Victoria Vasilyeva
Click here to see this article in russian: Главные страхи современных горожан
urushev_p
©2006-2021 All rights reserved