Fashion
Piercing - fashion or masochism?
Twenty years ago in Russia, the tattoo was "calling card" have served their term, and the guy with the earring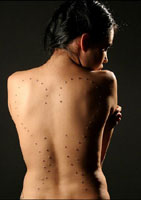 could send in a madhouse. And today in the prisons is almost not "prick" - on the outside no one smite "painted" shoulders, arms and necks, even ... In addition to "tattoo" young aesthetes insert rings, pinks on the lips, eyebrows, noses, navels, intentionally inflict scars on the body, a red-hot branding iron. The older generation clings to his head - terrible! And ... gradually gets used.
The tone of the new model sets the all-Russian Moscow. Previously, there stood in line for sausage. Then for visas at foreign embassies, some references - paper at the BTI. And now ... in turn constructed by those who have their own money wants a puncture or cut. Do not believe me?
Yes, for twenty minutes already piercing waiting ... - peretaptyvaetsya from one foot to a modest type of girl.
"Do not be afraid, Sash, I'll hand hold on, - calms friend.
The guy seems like Baggio, a fan of the African.
-I have been five tattoos! - He says proudly. - The stomach crammed spell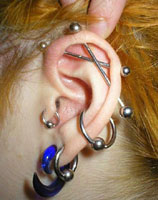 The palm-sized. On the shoulder - the contour of Africa and the blue state of Mali! The state, incidentally, in honor of my dog - it also was the name!
Now Baggio ponders over the sixth and tattoos, but the cause is not in a hurry. After another "tatuha" - is not a craze. She did, my whole life and that must mean something!
Girl Sasha from the word "pain" frowns. Tattoos on her there, and allows the skin puncture just after anesthetic injection.
- The first earring in twelve years put in - in the language. It swelled up terribly, she was afraid her mother seem to rest up for three days at the cottage. Then my mind. I come home, saying: "I have my tongue pierced!" Mom clapped her hands: "Show me!" Show ... "Idiot!" - Assessed the mother.
True then used, and even did not mind when her daughter pierced navel and nose. Mom just told Sasha that her daughter were not disfigured face. Here's Sasha and decided to make a hole in his ear again - front hryaschik.
Piercing process took less time than waiting. Master put Sasha on a chair, pulled on latex gloves and wiped his ear with alcohol, caused a marker point of puncture. Then - an anesthetic injection,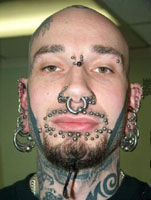 "Pistol," and - "banana" in the ear. Faithful Baggio had a girlfriend by the arm, but it turned out - to no avail. Ear numb from the injection, and did not feel pain
- The girls will now be jealous?
-Oh, no - it's a private matter! Who likes piercings, and someone not ...
Meanwhile, tattoo parlor was filled with loud voices. It turned out - the Germans in the city! Group of high school students from Germany, walked along the Arbat and wandered. - Das ist fantastish! Das ist fantastish! - Sputter haired little girls, looking at the dummy beat the tar out of bars, bananas and nipple rings, ears and navel. Do not pass by and a special piercing vibrator for oral sex on the tongue - is running on battery time ... The Germans immediately formed a new turn - who pierce the ear, nose, someone who nipple, who is the most common place - the navel. Remembering through the stump-pack of German, I ask. In memory of Russia.
- Here - cheaper, and "Mutter" does not see - jokes young Fraulein Brigitte. But it was immediately distracted friend: look, they say - out there in the corner still casts prokolatyh along and across the genitals.
- Nein! Nein! - Brigitte frightened.
By the assurance of the master, the most painful - it just pierced genitals. But sometimes such a request.
Master Snake: Our customers do a lot of masochists!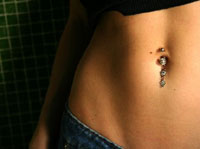 Once a girl came from Tula to make the scar and flatly declared: "Without anesthesia!" Come Rastaman do ritual incisions on the cheeks - like Africans. Their cause by cutting the skin with a scalpel. Four times asked dvoit language - like a snake. "Let me get hurt, - said the girl - I was with her boyfriend in a quarrel. But when you have to put up - I'm frightened him! "But then a guy came - I do not know one or the other. However, could not resist the process - buhnulsya fainted when I saw how much blood dripped into the basin, had "otnyuhivat" smelling salts to sew him the edge.
Master angry: All of our clients - masochists, but as long as they are not like in America. There doing full coverage of tattoos from head to foot skull. Implanted under the skin of the head "horns". Stochennye a file teeth. Prominent scars - say, burn skin acid. Patterned drawings, burns vyzhigatelnyh vehicles. Jagged lips, leather, braided in cornrows ... All this requires not only medical education, but now - OS! And today is the last squeak - Tattoo fluorescent paint. When a person is excited - the pattern becomes swollen and emits light, as if a man irradiated by radiation!
After the procedure, Snake will give each "Fraulein" instruction - how to care for svezheobretennym piercing. And it wants you to send to reached: 5-6 times a day to wash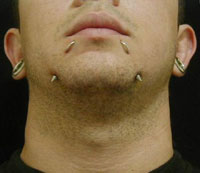 running water, oiling the special ointment language eight times a day, rinse with furatsilinom. In no case do not shoot until you heal, do not swim, do not sunbathe or swim or even lie down in the bathroom - shower only! Failure to comply with hygiene rules could cost dearly: Snake once had to cut his client umbilicus and remove the accumulated pus.
And now, some terminology. Piercing - any piercing of any body parts - from the banal earrings in his ears, to the language and more exotic locations.
Scarification - or scarification. At your request the master intentionally inflicts on the body scars.
Branding - was very popular a couple of hundred years ago. It is true, then it is simply called "stigma". And branded mostly criminals. Now, a red-hot branding iron completely voluntary, and only for specific creative expression.
Sergei Petrunin
Click here to see this article in russian: Пирсинг – дань моде или мазохизм?
parhomenko
©2006-2019 All rights reserved