Fashion
Preparing for prom
Not far off prom, it is akin to the first ball, which in ancient times with such trepidation preparing young ladies. Graduation Ceremony - a unique chance to show the former neighbor's party, who was in your class a real beauty and fashionable.
See also:
Fashionable footwear of summer 2007
Emo culture: the life out from under the slanting bang
Instructions on compiling a fashionable wardrobe for Spring / Summer 2007
The main thing for today's debutantes do not be like everyone else - the individuality of the season in a special favor - and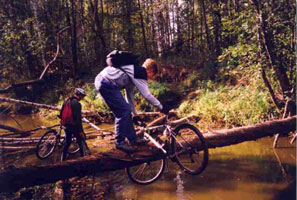 simultaneously look stridently. Gone is the heavy fabric that turns a girl into a solid lady. Hard, as if standing stake, canvases, such as brocade or taffeta, on the podium there was not the first season. It is necessary to abandon the costly and festive velvet and satin - would be many more reasons, then, in close and heavy gown.
Recognition today have thin fabrics and flowing silhouettes. Designers are choosing silk, muslin, chiffon, organza or satin. Also, if you want to pass for fashionable discard corsets, corsages, and all kinds shnurovok. The most pressing clothes - light, weightless, flowing and a little form-fitting. Do not get involved in decor: lace in tone or contrast piping is enough.
You can opt out of suit and skirt or trousers with a top, but at the crest of a wave this season, of course, dress. The choice of length dress depends on your preference, but do not forget that in a long dress "in the floor" dance in the club all night would be extremely difficult. At the same time, some schools in the mini-graduation is not welcome.
Choose a style and silhouette dresses
The most controversial option - dress baby doll. Raised waist with a bow, rounded collar kids, ruffles and sleeves-lanterns. This dress will emphasize in her mistress not only the child's innocence and fragility and poignancy, but some of infantilism. This image requires a certain attitude to life, to the expression of the eyes and face.
One of the key styles of the season began volumes. Voluminous sleeves and rounded shoulders, if necessary, visually reduce hips and accentuate the waist. A volumetric balances the skirt width apart and add a feminine hips. Importantly, watch a game of volumes - it's either the top or bottom. If you are small in stature, excess capacity, top or bottom, will make you even less. Therefore, would be the best only hint at the scope or use of soft and thin fabrics.
Dress in the Empire style, with an oblique cut to the skirt and high waist - another best friend, gorgeous breasts and magnificent forms.
A dress with a bodice a la Marilyn Monroe, tied at the neck, without the back and sleeves, and does work miracles harmony. On the background of the roundness of shoulders look very gentle, a much more feminine than skinny and awkward-adolescent.
Palette & Accessories
Hardly ever has the young lady an opportunity to put a gentle romantic dress, to which the definition of «sexy» should not be approached. The classic combination of white with a black ball is fully consistent with the task: to show himself as an educated young lady. Vivid detail can become a lacy belt at the waist, covering the flying drapery.And that outfit did not seem too serious, it is necessary to take a set of funny little frivolous sandals and handbag, such as black patent leather.
All blondes, brunettes and fiery bright suit so fashionable today, rich blue. Flowing fabric will emphasize the dignity and the original drapery, in contrast, hides the fact that it is better to hide. Bright dress - the main link attire, but do not choose shoes faded. Suitable option - sandals and a handbag with a metallic luster: for all elegance, this color will not distract attention from the main. But the abundance of jewelry is to abstain.
Girls are tall and slim, which, however, seem too broad of shoulders and hips - quite the opposite, while the waist is not too marked also help air fabric shades with delicate floral motifs and a properly fitted accessories. Translucent blouse in an elegant and delicate flower will cover the shoulders. Fluffy skirt, perhaps even with a pack, give the desired feminine hips. Strap with a buckle, coupled with the decor blouses accentuate the waist. On sandals, jewelry and handbags can also be present crystals or flowers, most important not to overdo it.
Bright colors - hit this season. If you choose, for example, juicy cyclamen, then cut dress can be straightforward (a dress-tunic). To him well suited black patent leather sandals and a handbag. A large ring in the color of the dress will put the right accents. The only condition, a beautiful clear skin, but hair and eye color does not matter.
A couple of words about shoes
It is necessary to bear in mind that the night will have to spend on their feet. Hence, the shoes should not be entirely new, but the most easy and practical. It is indispensable or a small wedge heel. If you choose to wear fashionable shoes without a heel, the rear leg should fix the rubber band or strap. Otherwise, the struggle to ensure that shoes have not fallen to his feet, and will make prom night a living hell.
So, what does not along had been preferred, the main thing - do not forget its main decoration - a happy smile.
On materials "Pravdy.ru"
Click here to see this article in russian: Готовимся к выпускному балу
tatiana_t
©2006-2020 All rights reserved