Fashion
Union of fashion and art
French fashion designer Jean-Paul Gaultier created a collection of costumes for the French ballet "Snow White". The performance included in the official program of the Biennale of Dance in Lyon's famous French director Anzhelenom Preljocaj.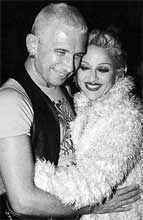 Iconic choreographer distracted Gauthier from creating collections pret-a-porter on the eve of Fashion Week in Paris and invited to become a stylist for the show-ballet. Gautier, who in the late 90's called the most brilliant designer of the last two decades of XX century, loves to work for artists. The evidence of this - a whole series of costumes for most of Madonna.
Though he is not alone cooperates with the world of art. For example, actress Keira Knightley loves to appear on the screen in dresses from Chanel, and Reese Witherspoon - from Nina Ricci. Wife of Michael Douglas - actress Catherine Zeta-Jones - all decorations prefer products from Di Modolo, while dresses from Gucci prefers another star - Drew Barrymore.
In our country, and movie stars dressed Slava Zaitsev. On the concert stage in his dresses sang Claudia Shulzhenko, and in the movie "Starling and lyre" dress from another young designer then tried on Lyubov Orlova.
I am pleased to work for the theater and Andrei Sharov, collaborating with director Andrei Zhitinkina. Their recent joint success - "Love circle" at the Maly Theatre, where the dresses from Sharova shone Ellina Bystritskaya.
Finally, most recently, a storm of enthusiasm produced a performance of Angelica Choline "Coast women, staged at the Theatre Vakhtangov. The show on the theme songs of Marlene Dietrich period costumes the 30's - 40 th years of last century characters dressed exceptionally talented Lithuanian designer Juozas Statkyavichyus. A little earlier, he sewed a dress for the first lady of Latvia, Vaira Vika-Freiberga. And she liked it.
Alexander Gray
>
Click here to see this article in russian: Союз моды и искусства
urushev_p
©2006-2020 All rights reserved