Fashion
"Two Towers" appealed to the romantic post-punk
Fashion Week in Moscow. Seating yard. Design duo "The Two Towers" has once again demonstrated great skill and inexhaustible imagination of designers Irina Krupskaya and Andrew Melnikov.
This time designers have turned to the romantic post-punk, and the audience in the hall comparing costumes and models of the atmosphere at the show to show the queen of punk and talented English designer V ivienne Westwood.
As you know, the tandem two Gun Towers was formed in 2003, and since then has won major recognition among Russian fans fashion.
On display in the arcade designers managed to create a vibrant and dynamic images, while remaining a framework impeccable taste.
See gallery to display: "Two Towers": punks on the catwalk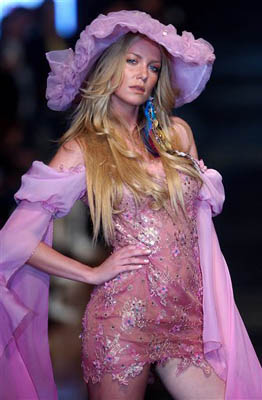 An interesting feature of the collection was the use of sharp contrasting insets: dress can be white with black front and rear, smooth, pale purple cloth bordered with a large picture of a "cucumber", which in turn can pass into the small floral designs. Designers use asymmetry.
Galleries: Royal race "under the roar of engines
Pugacheva kissed designer Sharova
Feminine protagonist Valentin Yudashkin
"Two Towers" subtly feeling for those trends, which develops advanced design idea, but things from their new collection feel like immediately to buy and wear.
Lyalya reasonable. Photographer: Yuri Reasonable
Click here to see this article in russian: "Две сорванные башни" обратились к романтике пост-панка
Ляля Разумная
©2006-2020 All rights reserved