Society
2008-year separation from family
The expiring in 2007 will soon be replaced by a new, 2008, proclaimed the year of the mother. Symbolic. It is worth adding "abandoned the mother and young wife, as now ring out in the army threatens the young fathers and sons who work to feed their sick parents.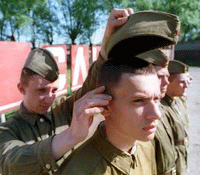 The current that failed to finish, fall will be the last call, when there are delays for recruits who have children or parents with disabilities. Now, the Army did not call upon that young fathers of disabled children, whose age is less than 3 years old. And then, when the child reaches the required age, his father, anyway, is to stand up "under the gun." As announced on November 26 at a press conference on the issue, Director General of Humanitarian Charity Center "Compassion" Elizabeth Dzhirikova - "This bill will strike in the first place, for families that depend on the income her husband."
Women who gave birth in early 2008, when the come into force new legislation promised 14,000 rubles on the fact of birth, and after payment of 6,000 rubles a month, while her husband was somewhere far from digging trenches and be worn out boots. "Apparently, according to the government, these contributions should be enough" - throws up his hands Dzhirikova. There should not forget also that some families, money earned young head of the family, pay a mortgage. And 6,000 rubles is clearly not enough to support themselves, the child (and if the patient, then he needed to buy drugs), loan payments, as well as fees for municipal services.
According Dzhirikovoy, "delay may be beneficial to only the poorest families with non-working husband and wife living in an apartment with a retirement age parents." She also noted that the exception would be, perhaps, children are provided with parents who "cared for at-law and grandson while their son in the army."
In addition, in the most disadvantageous situation families are from villages, having his own farm and live only through him. Recently given birth to a woman is shed, barn, chicken house and gardens, which she can hardly keep track without a man's hand. Plus, a child that requires constant attention. Villagers also bypasses and the postponement of the health-"In the average rural resident medical record is clean. Ill, sat down at home to undergo treatment ancestral ways and forget "- notes Dzhirikova.
Also, fathers of children with disabilities not evident, such as asthma, headache awaits. They can either immediately "BOAD, or require an annual inspection of the diagnosis.
In addition to the cancellation of deferments, since 2008, comes into force the bill on military service for exactly one year. In fact obtained for three years, because first year recruits are trained, and then, if desired, to continue service for another two years. On a professional basis. As noted by another member of the press conference, Sergei Krivenko, coordinator of the public initiative "The Citizen and the Army" - "These are the first steps towards a professional army, which so far we have developed a very, very bad." Also, referring to his speech, the government's interest in population issues, he noted, "wean the fathers of families, in this connection is more than strange."
One way out of this situation is the alternative civil service (ACS). As the secretary said the All-Russian public associations coalition "For a Democratic AHS" Lev Levinson, "AHS could be a way for those who can not see myself in the army." The bottom line is that young people can serve the fatherland and the job family, while earning and not so little money. The main problem AGU he called disinformation full citizens in its affairs.Misinformed, according to Levinson in the military, explaining the recruits that supposedly held AGS can be used only if you belong to national minorities or is a member of the sect. He also noted that from the media is in full substitution of concepts and entanglement of citizens, citing the example of a central channel through which sounded like a statement regarding ACS. Also, added Levinson, many, having ACS, acquire a profession. "
By the way, even Microsoft Word 2000, apparently in solidarity with the bill and does not inspire optimism in this regard. If you enter it the sentence "I want to avoid military service, it will regard it as a grammatical error, saying that it" is an error in management. The verb "to avoid" requires additions to the genitive case. For example, "no one managed to avoid military service."
Gregory Tumanov
Click here to see this article in russian: 2008-год отрыва от семьи
tumanov_g
©2006-2020 All rights reserved