Society
France lost to America in the wine battle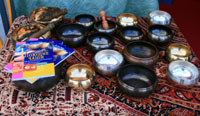 As a result of a blind tasting of French and Californian wines was established American leadership. 30 years ago, wine tasters have also recognized the best of California.
In the "competition" involved all original wines in 1976 from both countries and a few new vintage wines.
Prior to announcing the results of "Judgement of Paris" in 1976 no one dared to doubt that France produces the finest wines, and the loss was a severe blow to all Frenchmen. It is worth noting that the judges on the tasting were the French themselves.
To date, winemakers from America, New Zealand, Chile and South Africa in terms of sales greatly outperform the wine of kings "old world". In France, due to overproduction was destroyed by a very large number of vineyards. Many Bordeaux winemakers have assumed production of industrial alcohol instead of wine. And that's leading wine critic in the world, too, does not add to the French American optimism.
Tastings are conducted simultaneously in London Berry Brothers & Rudd in the American center of wine, food and arts in the Napa Valley. There are nine judges gave to try different wines, each of which were set points. On the amount of points leader was the 1971 Ridge Monte Bello Cabernet.

In London, judicial commission headed by Stephen Sparrier - writer and wine connoisseur, who organized and tasting of 1976. He hopes that this time the French were easier to perceive the defeat - the last time the results were a surprise, and many were strongly dissatisfied. But French judge who attended a tasting in California, not sure what their compatriots will be able to gently absorb the loss and even afraid to return to their homeland.
On materials BBC .
Click here to see this article in russian: Франция проиграла Америке в винном сражении
Васильева Камилла
©2006-2019 All rights reserved