Society
7 million for re-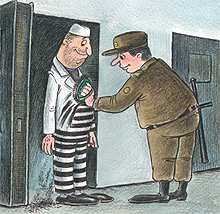 November 12 press conference, "Social Adaptation and rehabilitation of ex-convicts", organized by the Russian Orthodox club patrons (RKPM) and The Support of Russia. " The conference discussed possible projects that can optimize the employment of ex-convicts, as well as to solve other social problems in this population.
In particular, the launch of the project "Specialized Job opportunities for released prisoners with full-service, according to project manager Alexander Pavlov, will efficiently use human resources and socialize effectively liberated teenagers and young adults.

Full range - it is a social hotel, social dining, mobile professional orientation centers, with the possibility of leaving the colony, psychological counseling, legal assistance, temporary and permanent placement, consulting office
Project "Specialized Job opportunities for released prisoners" will run through the United Russia party in the most problematic regions: Sverdlovsk, Bryansk, Kursk and Voronezh regions. Annual costs for the project "Specialized Job opportunities for released prisoners" would amount to 4-7 million rubles. Possible commercialization programs and access to self-sufficiency. When the designed capacity will be employed about 300 released convicts, will receive counseling about 2000 released, will operate the hotel social and social dining for at least 50 people.
Along with this project is now running a complex program "Rosmolodezh Foundation and assistance to prisoners' reintegration into society." The project is implemented in the Sverdlovsk region and has been recommended for replication in the regions.
p>
Click here to see this article in russian: 7 миллионов на перевоспитание
urushev_p
©2006-2020 All rights reserved