Society
The most charming Constitution

On the day of the 15 th anniversary of the Russian Constitution virtually all Russian political organizations in their own congratulated citizens while still a young state holiday. "New People" held information pickets in the cities of Volga under the name "Living tree of the Constitution." "Young Russia" across Moscow it identified among the best passers-by "experts constitution." "Young Guards", "United Russia", "Georgievtsy Russia and members of the Universal anti-globalization protesters League celebrated the Day of the Constitution massive rally at Revolution Square.
Movement of "our" Day of the Constitution has decided to arrange on Vasilevsky descent real triumph, and even established a tradition of celebrating this national holiday. "OUR" offered annually to choose the "face of the Constitution." This image of the state law should be embodied in a beautiful, talented, intelligent Russian woman.

The right to become the visual embodiment of the Russian Constitution claim 4 girls. 3 of them were qualifiers in the regions. Fourth chosen from those present on the day of the contest leading the ceremony Ivan Urgant.

Contestant had to try to prove their compliance with the specified parameters. The tests were probably even tougher than the competition "Miss Universe". Dance, song, mini bikini, catwalk, intellectual contest on the knowledge of Russian history and law.
In "Song" tour member for a surprise - "star support group." Sergei Zverev, Andrey Grigoryev - Appolonov, Irakli and Sergey immoral. Girls were to not only get red in the face in front of that kind of sex symbol, but also perform a duet with them. And professionally.

As an expert jury at the competition were Paul Vashchekin producer and member of the Moscow City Bar Association, Advocate of the Moscow Chamber of Advocates, the head of the Bar Pavel Astakhov; member of the Public Chamber of Russia Pavel Astakhov.

Audience sympathies were on the side of Maria Fedorova from Rostov-on-Don. The girl is now owned by the honorary title of "Miss Constitution of 2008" and a nice addition to it - "Mini Cooper".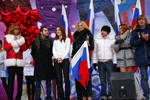 Such activities, according to organizers, should increase the legal literacy of young people. "Our young people are not yet able to exercise their rights", - says the federal commissioner of the Nashi movement Drokova Maria "-" when they see the constitution Impersonation beautiful girl, they think: what is behind this? This would motivate young people to ensure that once again turn to the constitution. "

From the organizers agreed, and special guests. "The Constitution - it is our chief law, so it should be friends. And when the Constitution is so beautiful, to make friends with it yet and nice, "- says Pavel Astakhov.
Click here to see this article in russian: Самая очаровательная Конституция
Андрей Гальперин
©2006-2020 All rights reserved