Society
Beijing Olympics - a dog's delight
On the eve of the Olympic Games Beijing authorities have banned public restaurants make to their menus so popular in Chinese dishes of dog meat. Waiver of sobachatiny "strongly recommended" to other businesses catering.
A moratorium on trade in dog meat in Beijing will last for the duration of the Olympic Games. According to the official Chinese Xinhua News Agency, the authorities banned the trade in dog meat dishes from the official 112 restaurants during the Olympics. In case of violation in each case will be immediately taken stringent measures. Refuse dishes sobachatiny "strongly recommended" to other businesses catering. Taboos on dog meat trade will continue until September.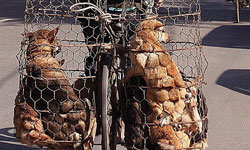 Over the banning of trade in dog meat started thinking soon after the announcement of Beijing, the capital of the Summer Olympic Games. Due to the fact that an increasing number of Chinese began to keep dogs as pets, and from year to year and growing number of opponents of eating dog meat. According to the daily newspaper Shanghai Daily, Organizing Committee of the Games has appealed to restaurants with a request to take into account that the consumption of dog meat in many countries is banned.
But any rule is not without exceptions. In traditional Chinese medicine, the use of dog meat is allowed and the ban on its use are not covered. Nevertheless, the packages of drugs on this must be clearly written, according to Xinhua news agency. According to Chinese beliefs, dog meat helps with high blood pressure.
Gallery: Wandering actors staged an erotic show in the streets of Tokyo
Tour companies recommend staff restaurants and catering "patiently" to indicate lovers of dog meat in other dishes as a delicacy. "Conflict should be avoided," - said the deputy director of Beijing Tourism Bureau Syang Yumey.
Alexander Zotov
Click here to see this article in russian: Пекинская Олимпиада – собачья радость
snezinskaya_e
©2006-2020 All rights reserved