Society
Investigation Yoki.ru: kill or save a letter from death?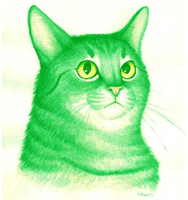 "Hello! I'm Ruben! I love the sky, music, clouds! I love cats, and trip! Happy New Year to you! Happiness to you much! Let's be friends! "- With such words usually begins correspondence Ruben I., personality, no doubt, in runet legendary. Netizens who have ever "lucky" crossed with him, called him a "rescuer", the sick person. Some claim that it alone with your letters bring people to suicide. Sam Ruben (aka 'Green Cat') assures us that he police officer.
Ostensibly, his job is to identify a network of potential suicides. It is true he does it on the unenlightened mind, rather strange ways. "... In my life I cop, and I like to work, helping people to live. I believe that service in the police is the best in the world. I love our cats. They are so cute. Now a black cat in my arms sitting. And yesterday, a drunken moment of joy of life and a good time ... "- talked about himself in his letters Ruben. His "calling card" featuring a psychedelic green cat, is well known on Russian blogs and forums.
Who really is Ruben, and how truthful about him walking on the network news? Yoki.ru conducted their own investigation of the 'Green Cat'.
"Assassination" spam
Ruben II appeared on the network unexpectedly. Many have linked his work with a series of materials on the forums of suicides and suicide, bringing to the Internet. In early 2007, a series of similar materials held by the media, business, reportedly interested in law enforcement. However, like many newspaper sensation, the subject soon came to naught.
Initially, Ruben I. "entertained" regulars forums and blogs with stories of heartache and religion, the same message of resignation from life. He called himself a 'Green Cat', published numerous images of cats, made with green paint and behaved like an ordinary Fluder, what the Internet is full.
Correspondent Yoki. ru able to connect with a number of users who engage with 'Cat' in communication. Many of them claim that, coming into the trust, he alone is the correspondence of people lead up to a state close to madness. "It was a desire to take up a rope or go to the window" - to share with our publication is one of the online friends 'cat'.
'Green Cat' saves the world from heartache
A few months later in the network has a full-fledged site on which all the same 'Green Cat' offers visitors fill out a questionnaire "Determination of heartache." In it, apart from psychological issues, it was necessary to include your e-mail.
At the specified "soap" Ruben was associated with his new "friends." Now in his arms were the personal data and contact members that own, even out of curiosity, went with him to contact.
In his letters he was a policeman, saving suicide at the edge of the abyss, good-natured owner of cats, an avid "cinephiles" and an experienced television journalist. But most importantly, Ruben felt the savior of mankind.
"I serve the people of Russia and the Russian state. And human life - the biggest value for me and my staff of the ministry. Suicides harm public morality, and consequently, they deal with us. And successful they will be cured. We believe a suicide attack on public morals and neutralize these people. As a rule, put them in psychiatric hospitals. "
This piece of writing Reuben provided the Yoki. ru the girl who calls herself a victim of a 'cat'.
Go crazy
Our publication found a few "victims" and many more "networkers" who "are familiar with the" victims "Rubena.I." Heard about his "victims", "familiar with the situation."Network users share with each other scary rumors - with psychological attacks 'Green Cat' from life, allegedly took about 20 people, and another 6 are being treated in psychiatric hospitals.
True, no confirmation of these rumors to find it was not possible, it is not clear whether we are dealing with a network folklore, and reality.
"Victims" 'Green Cat' was required, at least several months to finally go mad, say the network. If they did not stop correspondence with Ruben, we end their lives prematurely. However, break the connection with the strange character of the network was much more difficult than it seemed at first glance.
"He was intimidated by the fact that contact with government authorities is continually being blamed on an empty place that I tell a lie. Psychological pressure was unbearable, but away from it was impossible. He did not seem to let go, kept beside him against my will "- told our correspondent, one of the" girlfriends "Ruben correspondence.
Ruben I.: "rumored to have a negative attitude"
Engaging with potential "victims" in correspondence, Ruben.I was completely open to communication, willing to leave your contact information, home and cell phone, promised to "help people with mental pain at any time of day and night."
Corresponding Yoki. ru tried to personally connect with the mysterious 'Green Cat' to get his comment about the situation. Handset mobile phone took the girl, nothing about what was happening did not hear. On home phone persistently spoke modem or fax.
However, in the evening we managed to catch Reuben I. happy to answer, he dictated the number of your ICQ, proposing to move the communication to the network. 'Green Cat' listened carefully to us, however, having learned that talking with a reporter, was quick to minimize communication.
Before you shut up, he sent a very brief comment on the article contained version of events. Go to rumors that he brings people to suicide, 'cat' is negative.
It's all about what could interview with the mysterious 'Green Cat', which is still not known. Rather, we only know what he said on the network, and it is known, not always the whole truth.
Anna Pavlova
Click here to see this article in russian: Расследование Yoki.ru: убить письмом или спасти от смерти?
pavlova_a
©2006-2020 All rights reserved