Society
FOOD SHOW: increased concentration of flavors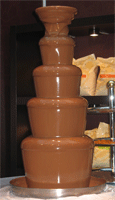 Have you ever seen how the stars are ready? A chocolate fountain? Those who took the time to November 30 to December 2, visit Dvor, seen. And they will long continue to share experiences on how tasty it was on the 2nd Gastronomic Festival "culinary show."
Already on the opening day at the entrance was a real crush. Wishing to join culinary festival was unexpectedly large. But despite this Seating yard pals. Together and fed.
Festival FOOD SHOW, presented to its guests several stands, each of which makes his culinary work. Within four days, anyone could become acquainted with exotic recipes, buy kitchen appliances, subscribe to culinary magazines, participate in master classes by leading chefs of the world and try everything very tasty.
People bought non-stick frying pans, deli meat, Christmas ornaments handmade face creams with chocolate, participated
in contests and win food processors and deep fryers. Now and again there were a stampede to the stands, where there was a tasting. Those wishing to try the 4-meter long cake tiramisu, nearly knocked the table and rattled confectioners. The audience were entertained by dancing natives of Borneo and the Indian songs. And about his culinary preferences tell actors, writers and poets.
One of the stands was fully given to Italy and its cuisine. Producers of olive oil, wine, pasta and even holders of multiple Michelin stars flew to the capital to prepare for festival visitors and infect their Italian vigor and buoyancy.
During the day, on another bench stars prepare their specialties under the strict supervision of festival visitors. On Friday, Irina Slutskaya and Anastasia Stotskaya cooked pears with cream and tiramisu cake, dj radio «Maximum» Rita Mitrofanov - signature dish of vegetables, Ruslana Pysanka and singer Slava - dumplings with meat, the participants of the DOM-2 "Nastia Dashko and Sam Seleznev - warm salad with prawns (incidentally, the couple plan to open own restaurant in the capital, so their presence at the festival was not accidental), and Vladimir Tishko the bride made a real romantic dinner.
While some guests tasted major "star" dish, others lined up to chocolate fountains. Near them were watching the cook, who dipped fruit candy in a very stream of chocolate and held out a treat patient slastenam.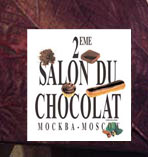 Starting from November 29, when the "culinary show" just opened its doors for "lovers tidbits, Moscow was plunged into the chocolate. Remember, as in the advertisement: "Come on, meet chocolate adventure!"? The fact that for four days, going on in the arcade, can only be described with a phrase.
Yes, the chocolate was really a lot. So much that organizers even had to give it a special place in the festival program. Called the sweet action "Moscow Salon of chocolate" and allowed anyone to try, purchase and see what is best in the chocolate business.
One of the most anticipated action was chocolate fashion show of dresses. Girls in dresses made of chocolate delighted guests each evening. This year, his skills on the material in the form of chocolate tested Valentin Yudashkin, Dmitry Loginov, Kira Plastinina, and Jean-Paul Evan. The visitors ran salivating, and the temperature in the room was almost melted chocolate dress.
the exhibition was organized by the presentation and tasting Ochakivs'kyi new products: low-alcohol beverage "Mead Ochakovskaya and wine cocktails cup Ochakivs'kyi red", "cup Ochakivs'kyi white", "Mulled Ochakivs'kyi.
And on November 30 at "culinary show" was a mini-contest of young bartenders. On the platform were the winners of Russian and international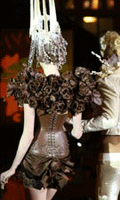 championships Barmen skill and honor awarded to the winners of this year. Degrees degrees, and in the mornings alcohol drink only aristocrats, and what you want.
There is no doubt that the festival guests in the evening returned home well fed and happy, so even with the gifts in their hands.
"We would often such events. And then all the "feed" displays of new clothing collections "- shared with us one of the guests' culinary show." And it's true, France such gastronomic festivals are held several times a year. So why do they not learn? Russia is not only interested in fashion, she still loves to eat.
On the closing day, December 2, visitors were unusually much. It can be seen after the elections held all the way to the arcade to fully sweeten your mood after the vote. Gastronomic Festival closed with tears in his eyes. On the last day, the guests tried to capture as much emotion, entertainment, and chocolate.
But I was impossible to say goodbye to the chocolate fountain. You are what you want, and I soon to chocolate not pritronus.
During the cooking of action should be Anna Pavlova
Click here to see this article in russian: ФУД-ШОУ: повышенная концентрация вкусов
pavlova_a
©2006-2020 All rights reserved