Society
GI Jane, or the girls in the army
While some desperately mow the army, trying by hook or by crook to avoid a meeting with military offices, others themselves there suggest themselves. Now that the guys who want to voluntarily join the ranks of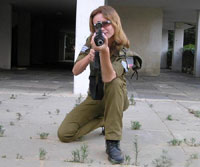 armed forces becomes smaller, the word for the girls.
Looking once again incorruptible movie "GI Jane" I have a serious visited idea: do not go there in the army? From camouflage uniforms in the locker room there is quite a nice T-shirt, a shooting at a shooting range is almost perfect, but Burtz well be relevant between the piles of shoes and high boots.
With good purpose - to serve the fatherland, heading to the regional recruiting office at his residence. At the gate puzzled gaze meets the duty and the lazy, contented garrison life, fluffy cat. Officially call is finished, and the girls here zahazhivayut not often. Frankly confess that I want to serve in the army. Duty begins to spread out into a smile obviously unaware that I was joking. In all seriousness I repeat, that came to the head, I want to join the army. Soldier smeryaet I look down and goes to the phone. Trying frankly do not laugh, explains that at the checkpoint a girl wants to join the army.
Superiors quietly smoked on the porch of the administration building.
- It's you that if the army you want? - Measured the narrowed view of my person an elderly military man.
On my affirmative response, he chuckled, scratched his head and began to ask questions about education, marital status and other achievements for the Fatherland. Well-hush that toil journalist, all else must confess as a spirit. It turns out that girls with higher philological education in the army do not really need. Trying vyznat Comrade its status and name. He is partisan is silent, and sent me to the regional commander's office to Colonel Karpoff. There let me understand.
Again CPR. A handful of young men in military uniforms animated at my approach. With complete seriousness loudly say that you came to the Colonel Karpoff. The gate I passed, trying to vyznat why it took me here and go. For the fifth time I explain that I want to join the army. Company soldiers began to blur into a smile. In my back do not believe. Yet to lieutenant colonel tries to call on the checkpoint, one more friend, trying to figure out why I do want to join the army. His service ended after a few months, which he neskryvaemo happy.
- What is your relationship? - Suddenly asks five minutes to demobilization.
- Sorry, what? - Pondering, as if in cultured send a boor.
"Demobilization" is trying to explain something about the "relationship" in Russian-production. From the above, understand that the "relationship" - it's not racy vulgarity, and very necessary to service a piece of paper, I have to stomp to a military unit, there I was just these relationships and will be given. And yet there is no need me to lieutenant colonel to go - he still in my part of the send.
Tired to travel about the city, going into the first military unit. And again at the gate attendant starts openly giggle, knowing the purpose of my coming. And I have absolutely not funny. I was accompanied by two ladies, parsing documents.
- I'm in the army want to. They sent me a relationship - someone to do you need? - Outstanding seated ladies.
- But we can only for the civil service, if a girl. And it was just us now, people needed. Go? Y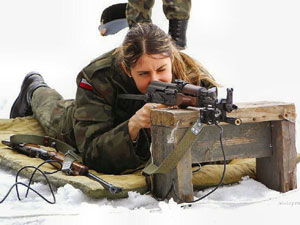 our division on alert - we women for military service do not take.Now, if you have education was a special, military, or radio-technical or college Cookery, or the medical kind specialty - it would be easier. Took b you or signalman, or cook, or a medical unit. And with higher educational - so where are we you? And anyway - you know that if you contract concluded for military service, you may not for five years to marry and have children?
Well, marry me is not so unbearable, it is through simple, but in documents poking around - that's not what I wanted. But what form polygons workout? With a parachute jump on the tanks to drive a machine gun shoot? Only we do not have the Israeli army, and serving girls with guns do not run. And GI Jane, we do not get - for military service in the Russian ladies do not call. If we are shooting like - then welcome to the shooting range. A voynushki play - the proving ground Paintball. At least there is no sex discrimination.
AND generally how I realized get girl in army even at very big desire - big problem. Take not everywhere (not in all areas of our vast country), not all and not every year. For a lighter perspective is best trained in military academies and universities - from there go into the army is much easier.
According to official information from the Ministry of Defense of Russia, last year in the Armed Forces had served in positions of officers, warrant officers and warrant officers more than 32 thousand military women. Of them are not specifically military training a bit more - 32%. Just according to Mioborony 710 women took part in hostilities and armed conflicts.
Officers are women are serving mainly in the field of medical service, Signal Corps, financial services, military transfer.
Female non-commissioned officers - mainly consist in positions in the field of troop management, staff, medical, communications, control systems, repair and storage of weapons and ammunition.
More than 60 thousand female soldiers are serving under contract as soldiers and sergeants in all the Armed Forces and combat arms. The largest number of women serving in the Army, Air Force and the Strategic Missile Forces. They are mainly on the positions of a radiotelephone, telephone, planshetistov, clerical and medical staff. On posts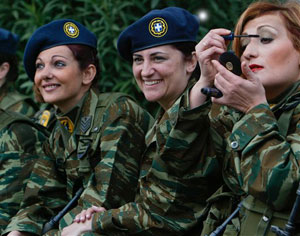 civilian personnel in the structures of the Ministry of Defense employs more than 500 thousand women.
Girl Dress-kontraktnitsam as much and military men. The only difference in the performance of duty - standards of physical fitness.
In Europe and America girls get into army little simpler. In the U.S., more than 200 thousand women are in uniform, representing almost 14% of all personnel.
In the army of Canada Women more than 7 million (more than 10% of personnel). By order of the Ministry of Defence Canadian roads are closed only in a submarine, where conditions of service do not allow complete mixed crews. In Sweden, the service of women in the submarine fleet has been practiced since the early 90's. In France, women gained the right to serve virtually all the military branches, except for submarines and gendarmerie squads quick response. Now in the French army more than 26 thousand women, with more than a thousand of them - the officers of land forces, the gendarmerie, the Air Force and Navy. In Germany, Frau and Fraulein may take up to 10% of personnel. The largest women's army - in Israel. Compulsory recruitment into any kind of troops to be indigenous Israeli woman reaches the age of 18. Today the number is 36 thousand (one-fifth of all war!). Not subject to conscription in the IDF - Israeli forces, pregnant women and women with children.Likewise in Spain Finland Denmark Turkey women participate and in combat operations. This approach is practiced also in the Middle East, where from the Muslim completed numerous subdivisions.
Elena Pakhomenko
Click here to see this article in russian: Солдат Джейн, или девушки в армии
parhomenko
©2006-2020 All rights reserved