Society
Let's play with Hitler in the ass!
Two residents of Hamburg have invented a sinister game of cards called "Quartet tyrants» - "Tyrannen-Quartett". On the maps depicted the faces of dictators and manslayers: Adolf Hitler, Saddam Hussein, Joseph Stalin, Mao Zedong and Slobodan Milosevic.
For only 10 euros you can buy a card deck of 32 sheet and spread in the evening with friends in the game of cards with images of war criminals.
Gallery: The Quartet tyrants "for an evening of Solitaire
How did you come up with this idea? About 10 years ago, two 40-year-old filmmakers Jörg Wagner and 44-year-old Jürgen Kittel exchanged cards. Jorg Wagner told the tabloid Bild: "In the old cardboard box, a Juergen preserved from childhood, we found a pack with images of tanks and armored vehicles." While friends were playing cards, trying to decide what equipment is steeper and, consequently, whose game is up, the speakers came from a large anti-war song by Bob Dylan.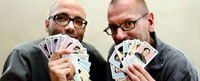 Jorg Wagner added: "We thought that play would have been easier if the map a number. So the idea to create a series of maps, which we called "Beachy humanity." One deck had to be tyrants, and another - an epidemic. "
The idea remained just an idea until then, until both have earned for their films decent money. Jorg Wagner, for example, as a director took furious short film Stacker Driver Klaus. He is currently deeply involved in producing playing cards with tyrants.
"Although we have only a month to sell the cards online and in-store our friend in Sao Paulo (District Hamburg - Ed.), They are almost all sold out", - said Wagner. Need to play four - hence the quartet. Wins the one with cards with someone who has been longest in office, on the conscience of which the largest number of victims or whether he made a very large estate.
Jorg Wagner argues: "We do not intend to dignify rather make a mockery of. Here pure sarcasm. If someone is outraged by this, it is very good. People will start to debate. This is better than these figures show only in the textbooks on history. "
Igor Bukker
Click here to see this article in russian: Сыграем с Гитлером в очко!
snezinskaya_e
©2006-2020 All rights reserved