Society
Monstration - this is not about monsters
Flashmob heppiningi and other positive leisure time for young and active is not new. Especially active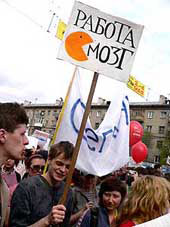 proponents of creative leisure in the spring. It is understandable - the sun warms, it's time for a demonstration. More precisely on Monstration. And the monster has got nothing to do with it.
Monstration - a parody of a relic of the Soviet past, according to monstrantov, demonstration. Also slogans, marched through the streets, too large or not very group. Only outrageously absurd slogans.
Monstration (from the word demo) - a demonstration with placards extremely absurd content. Monstranty have no political aims. They require an unexplained and simply express themselves.
The first action monstrantov held four years ago in Novosibirsk. Organized by her group of artists from Novosibirsk creative association CAT (Contemporary Art Terrorism). They invited all over the Internet to participate - to join the usual May Day demonstration of his column.
In form - the same demonstration, but the content - something quite the opposite.
The column moved to the crash of tin cans on strings, trumpets, fanfare, whistles and a variety of exotic musical instruments. However, banners, or rather their profound content shocked townsfolk. In the course had slogans like: "something like," "Tanya, do not cry," "The reality - the inheritance of the gods," "Where am I?" "Ah-ah-ah-ah-ah!" "sh-s-Yt", "Mai - May", "Siberia - Jamaica," "experiments oohs," "I'm broke!", "Make love, not work!", "Pull the blanket, Delhi pies "," Monstration and transparency at all without the text, but colorful.
One of the slogans Monstration - "If you have something to say, but nowhere! If you have nothing to say, but very desirable! ". The purpose of the action entirely self-expression. Each provides something that is capable of his imagination.
In general, a wonderful example of postmodern culture. Pronaftalinenye old stamps launched from a different angle. Instead of gravity - silly. Instead of appeals - figures. Instead of discontent - a smile. Monstration frequented by people of creative professionals - actors, artists, and sometimes even quite famous.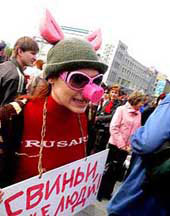 Most caught on the idea Monstration not in Moscow, and not even in St. Petersburg and Novosibirsk.
May 1st is traditionally monstrantov groups of several hundred people poured into the column of demonstrators. The police, incidentally, are not always loyal to march under slogans like "Novosibirsk - the capital of the Cosmos" or "Art needs to eat!".
Local law enforcement agencies dispersed monstrantov, dancers dance on the central square to the music of drums, tambourines, horns, Comus, and chants of "boo-ha-ha!" And "I WANT! I DO NOT WANT! ".
Monstrantov but this does not decrease, although it is not added. There have been attempts to arrange such emissions absurdity to the people in Tomsk, but the idea did not go because of the fact that none of the Tomsk citizens are not imbued with meaning, which is embedded in Monstration.
This tradition - a local, even though such events are staged in other cities, though in somewhat different forms.
"We want absolute value", "Algae are reasonable," "Pigs are people too", "O-ho-ho-ho!" ... What do all these slogans? "Nothing!" Happily answer you any participant Monstration.
Monstration can prirovnyat a flashmob.Flashmob, or "instant crowd" - a group of people meet at one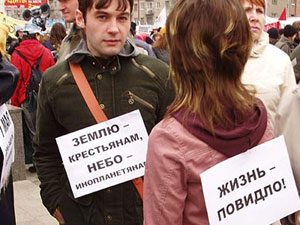 place with a pre-designated time, make certain an agreed action and rashodyattsya. And why - do not ask such questions. For variety, boring and ordinary life.
The term "instant crowd" is an alternative name for the Slashdot effect. Arose from the same science fiction story by Larry Niven, which is described as instantaneous teleportation enables a vast number of people appear almost instantaneously anywhere in the world, where the action is worthy of attention. The crowd at the scene appeared immediately after the event information has been published in the media.
Nearest flash mob in the capital will be held on the Arbat next weekend. Everybody can take part in the traditional April zapuskanii bubbles into the sky.
Alena Dmitrieva
Click here to see this article in russian: Монстрация – это не про монстров
parhomenko
©2006-2020 All rights reserved