Religion
We were going Cardinal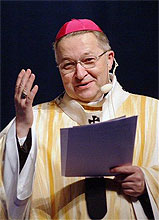 Arriving in Moscow the head of French Catholics Andre Vent-Trois. He will hold in the Russian capital and its environs for five days.

Chairman of the Bishops' Conference of France and archbishop of Paris for the first time traveler to Russia. And the visit of so high a guest is to recognize the almost iconic. In any case, it is clear evidence of warming relations between the Russian Orthodox Church and the Holy See.
These relations were very tense, while the head of the Roman Catholic Church was Pope John Paul II. The Moscow Patriarchate it accused of proselytizing and did not want to invite to Russia. Dialogue between the churches came to life when the Holy See, led by Pope Benedict 16. The prospect of a historical meeting between the two churches became more apparent. However, the ROC does not want her to wear formal.
Arrival of the Cardinal of Paris - the second major step towards convergence of Churches. The first was made exactly a year ago, when Andre Vent-Troyes took in Paris, Patriarch Alexy II. And take not just anywhere, but in the citadel of French Catholicism - in Notre Dame.
Under the Gothic arches of the ancient temple of the ROC head bowed, a crown of thorns Savior and addressed the faithful. Then he invited the Cardinal Vent-Trois to visit Russia. French archbishop accepted the invitation and went to the pilgrimage, which aims to honor the martyrdom of the Russian Orthodox Church in the twentieth century. "
The head of the Catholics of France will visit Moscow and visit the Trinity Sergius Lavra. It is said that among its inhabitants, and in the circles of Gdańsk students, there are those who believe the Cardinal's visit concession Gentiles. This is especially the followers of the rebel monk Diomede, more recently, abiding a bishop, but he erupted. Ex-bishop, not only criticized last year's visit by Alexy II on the banks of the Seine, but also - what looks very komediozno - later betrayed chapter ROC anathema.
Now Diomede (nicknamed the "dynamite") who resides in the Chukotka region, is preparing a new batch of philippic against the Moscow Patriarchate, accepting Catholic high guest. However, Cardinal Vent-Trois of them are unlikely to be known. Pilgrimage to the Chukchi is not in his plans.

v>
Click here to see this article in russian: К нам едет кардинал
urushev_p
©2006-2020 All rights reserved