Religion
Russia celebrates the feast of the Protection of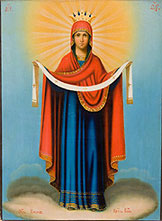 Today in Women's Pokrovsky Monastery in the Moscow Hotkovo served as patriarch. The solemn service was held on the occasion of 700 anniversary of the oldest monastery. And, of course, in connection with the feast day - Protection of the Blessed Virgin, which is celebrated today.
To serve in the monastery, where the relics of saints parents Sergius miracle worker, that ye strive too far away, he created man in the monastery, attended by more than a thousand worshipers. Many people came from Moscow, as well as from the surrounding towns and villages.
After the liturgy, Patriarch Alexy II made a celebratory prayer service before the icon of the Veil.
Celebration, by themselves, and long celebrated in Russia, has its origins in the 9th century, when St. Andrew of Constantinople saw in heaven, the Theotokos, which held omophorion (fees) above the ground.
The holiday was also celebrated during the reign of Prince Andrey Bogoljubsky, when it was erected and one of the most beautiful hrmov Orthodox world - Intercession-on-Nerl. Recently, it resumed service.
Served there - only 2 km from Vladimir - once the capital Rui - and today. Church services were held in the Cathedral of the Intercession (St. Basil's Cathedral) in Moscow.
Feast of the Protection was also reflected in street names of many Russian cities. So the main - is now walking - line of Nizhny Novgorod - Pokrovka. One of the central streets of Moscow also has this name.
According to popular belief, if the day of the Protection of the snow falls, it means the winter will be very early and very snowy. If the sun is shining - long before the real cold.

Alexander Gray
/ P>
Click here to see this article in russian: Россия отмечает праздник Покрова
urushev_p
©2006-2020 All rights reserved