Religion
Moscow Jews celebrate Sukkot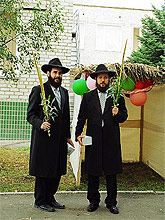 Today, Jews build booths and collect the sacred plant. Began the Feast of Tabernacles. With the holiday of Sukkot, in the year 5769 from creation, the Russian Jews congratulated Russia's Chief Rabbi Berel Lazar.
Sukkot (in translation from Hebrew - tents, booths, ") - a seven-day holiday starting on the 15 th of Tishrei, in memory of the huts in which Jews lived in the desert after the exodus from Egypt. The celebrations last week, with the first (and in the diaspora, and second) day - a non-working, and on the eighth day is celebrated on Shemini Atzeret (the eighth day of solemn assembly ").
In accordance with the first commandment of the Jewish holiday to build a hut, called a sukkah, from any material at hand, covering it with branches or straw. In a tent for seven days, or live to eat.
The second commandment - the commandment of the four plants - requires holding a bundle of four plants (etrog - citron, lulav - a branch of date palm, Adas - a branch of myrtle, Arabia - a willow branch) while reciting the blessing. Jewish sages say that the plants symbolize the Jews, are in various degrees of proximity to the Jews.

Etrog has a pleasant taste and smell - the symbol of a Jewish saint. Lulav - a Jewish sage. Adas symbolizes Jews who perform the commandments, guided by faith, awe and love for the Creator, but not extensive knowledge of the Torah. Arava - Jews who are not familiar with the wisdom of the Torah and its commandments are not performing. Fulfilling the commandment, a person shows equality and sages and sinners before the face of the Creator in the holiday of Sukkot, for the joy of all equal.

Last night metropolitan Jews gathered in the courtyard of the Moscow Jewish Community Center, where a prayer. On the eve of the same in the courtyard of the synagogue, according to the rules was built holiday sukkah, the roof is covered with leaves and straw. By tradition, in a makeshift tent and a table covered with treats. Doors open for all comers.

Alexander Gray
>
Click here to see this article in russian: Московские иудеи празднуют Суккот
urushev_p
©2006-2020 All rights reserved