Politics
"American Show": outcome of Halloween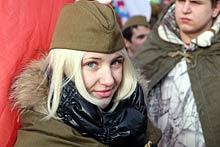 Youth Movement " Our "is going to collect thousands of its activists in the U.S. embassy in Moscow, Sunday, Nov. 2, to urge the world to think about the consequences of American policy

2 November (Sunday)
Moscow, Novinsky Boulevard d.17/23, the U.S. embassy 19:00

Thousands of activists of the Movement " OUR "gather at the United States Embassy in Moscow to take stock of the holiday of Halloween.

U.S. foreign policy, elections, global financial crisis - all part of the big American show, paid hundreds of thousands of innocent lives.

A feast for them - woe to everyone else. For many years, so lives the whole world lives in fear of a big war and the global crisis, exposed to the economic, political and military pressure the United States.
For America, Halloween - a holiday. For other countries it can become a day of remembrance and mourning for those killed in the name of continuing the show.
In America, decided to make pumpkin head with slotted eyes and mouth to ward off spirits of the dead. " OUR "bring to the embassy just such a pumpkin, but they will be inserted into candles and each is written the name of a real person, who was killed in the name of the extension of infinitely American holiday.
Thousands of pumpkins - thousands of dead.
Movement " OUR "is going to call everyone in Russia, Europe - all over the world to wonder how many more lives need to satisfy the habits of domineering tyrant.
After all, tomorrow in the list of sacrifices the U.S. can get our friends and relatives, each of us.
It's time to ask ourselves the question: "How many more lives we are willing to pay for the senseless, inhuman" American show? "
This show must be stopped.
That's what says about Drokova Maria - Commissioner of the Movement " OUR ":" America is waiting for an unforgettable Halloween. It will be really scary. On this day, America will remember the name of each of its innocent victims. And from the wrath of the innocent souls of those killed will not save the traditional scary pumpkin. We transform attribute Halloween symbol of grief and memory. We will see that for all their deeds in the name of endless political show the U.S. will have to answer to the world community. "

According to a source from the Movement of
Our
stock is expected to more than 10 000 people.
v>
Click here to see this article in russian: "Американское шоу": итоги Хеллоуина
urushev_p
©2006-2018 All rights reserved