Politics
During the congress in St. Petersburg SHAPE lost about 200 "dissidents"
On Sunday, near St. Petersburg continues to work on 5 th Extraordinary Congress of the All-Russian Civil Congress. The second day of the Congress devoted to the choice of co-chairs, the adoption of key documents and approve the structure of the Action Committee. " Meanwhile, the Congress and received disturbing news.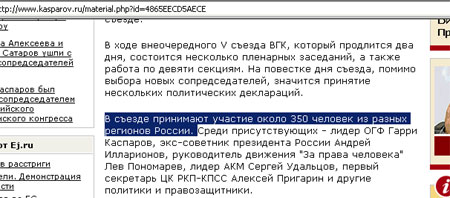 The first day of work was devoted to work on the human rights section and speeches of participants of the congress. Discussed such topics as "state violence", the violation of citizens 'social rights, the problems of housing, protection of religious freedom and secularism, the problems of small and medium enterprises, combating xenophobia, racism and fascism, the realization of citizens' constitutional right to freedom of expression and access to information The situation in the army and military reform. "
Meeting turned out fairly representative, according to the site "Kasparov.Ru" "The congress is attended by about 350 people from different regions of Russia." Resource leader FMG echoes St. Petersburg Internet resource "Zaks.ru:" About 350 delegates, representing 125 public and human rights organizations. "
Among them - the leader of the FMG Garry Kasparov, the SPS leader Nikita Belykh, Boris Nemtsov and Vladimir Milov, a human rights movement "For human rights" Lev Ponomarev, a former mayor of Archangelsk Alexander Donskoy, director of the Institute of Economic Analysis, Andrei Illarionov, the chairman of the St. Petersburg Yabloko Maxim Reznik , Youth Yabloko Yashin and others.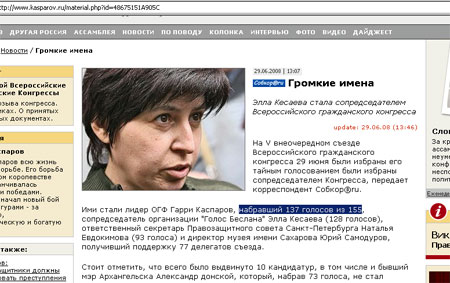 The second day of the Congress devoted to the election of the co-chairs SHAPE. Earlier, the Co-Chairs of left Lyudmila Alekseeva and Georgy Satarov, disagreed with the position of Kasparov, who was described as an attempt to draw the human rights movement into politics.
According to the results of secret voting by new co-chairs of the Congress were elected, according to Kasparov.Ru: "FMG leader Garry Kasparov, who collected 137 votes out of 155, co-chair of the" Voice of Beslan "Ella Kesayeva (128 votes), executive secretary of the Human Rights Council of St. Petersburg Natalia Evdokimova (93 votes) and director of the Sakharov Yuri Samodurov, supported by 77 delegates of the Congress. "
Striking discrepancy between the number of voters for Kasparov (155) and the number of participants in the congress (350 people). Assume that the number of participants in the democratic congress intentionally deprived the right to vote, our publication can not. It is hoped that about 200 people, a misunderstanding of the missing from the lists at the time of voting, and there cast their votes in favor in favor of one candidate or another - as customary in democratic institutions.

Alexander Sidorenko
Click here to see this article in russian: Во время съезда ВГК в Петербурге пропали около 200 «несогласных»
dmitry_l
©2006-2020 All rights reserved