Politics
Yashin bad groin at the congress of Solidarity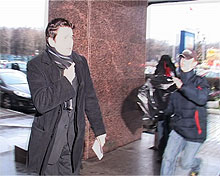 A member of the organizing committee of the Solidarity movement Ilya Yashin had to endure some unpleasant moments immediately prior to the Moscow congress of Solidarity on 23 November.
When Yashin had already opened the door r / k "Izmailovo", to him ran a stranger, and poured on his head a bucket of excrement. Leader of the youth "Yabloko" tried to grab the bully, and even managed to hit him several times, but the villain escaped.
Congress of "Solidarity" has already begun and Yashin without hesitation entered the hall. Apologizing for their bad smell, Yashin enthusiastically joined the Congress.
Read more Nashi news
>
Click here to see this article in russian: Яшин дурно пах на съезде солидарности
urushev_p
©2006-2019 All rights reserved