Politics
Cattle in a velvet glove of nationalism
In the summer congress of nationalist Movement Against Illegal Immigration leader Alexander Belov (Potkin) has promised to build in Russia, nationalism in Europe plan: "in a suit, tie and velvet gloves." On Sunday, the first public rally of the "new nationalists". As it turned out, the process of Europeanization is moving very slowly. If moving at all.
The first in this political season exit "the people" nationalists were bound 15-year-old schoolgirl Beshnovoy Anne, who died tragically on October 1 this year - returning home late at night, the girl was brutally beaten and dead, raped. With the curiosity of watching from the windows behind the scenes of violence local residents did not dare not to intervene or call police. But already after the fact suggested that the killer seems to have been "non-Russian." This fact, as well as gender, age and appearance of the deceased were the circumstances by which specialized in the fight against legal and illegal migrants guys just could not pass by.
As acknowledged in their reports DPNI activists themselves, in their arms may be no evidence, whoever that may be guilty, but their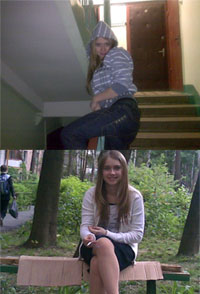 approval they were guided only by information from the media and blog posts. In a network, by the way, this incident very quickly overgrown with new details. "In this area, mainly Dagi and the last 3 days killed 10 Russian schoolchildren appears to infe that it dawned on me," wrote one of these now "informed" sources.
Then, as a blueprint spread across these rumors, talk more about albeit spontaneously, but still planned action. This "murder" 10 students, which for some reason no one heard. But such cases are inevitably give rise to rumors of a maniac, and local residents would certainly know about such things. The fact is, as told in an interview with the Komsomolskaya Pravda "Andrew," we have a small street, five-storey houses, apartments and communal services. All of the former factory workers, in the district, everyone knows each other. Because young people walking up late, he knows that no one finger will not touch. " But among school children would provide information about the death of my classmates would be scattered at a rate which would have envied the best news agencies.
Yes, and classmates Ani Beshnovoy have been so virtual that many initially had serious suspicions about the reality of the incident. Even later, when information about the killing was confirmed, none of the "Friends" Ani has not told the first person like that has happened. Failed to appear and boyfriend a girl (say that guy is a member of the Movement Against Illegal Immigration, which largely explains the part of nationalists in the story), with whom she spent her last night and who was afraid to take her home. The network featured a rumor of "a reference to witnesses and an anonymous community to raise money for the benefit of the mother of the deceased girl.
Nevertheless, all evidence of staged pictures on the tragedy of what happened becomes apparent only under the condition acquainted with the chronology of events and analysis of the "sources". For the ordinary reader, everything is clear - the migrants killed a pretty Russian girl, and police did not want to do. In general, people get up Russian.
At the national assembly, which for weeks preparing activists DPNI zakleivaya district leaflets relevant content, actually came locals. That's when they explicitly eschewed kuchkovavshihsya together "people's avengers," willingly salute Heil "from the heart to the Sun" and was removed last suspicions of their intentions to the smell of cheap alcohol.
img src = "http://yoki.ru/images/article/7/6/9/769.jpeg" border = "1" alt = "At the rally: Photos: http://goragor-ruf.livejournal.com "hspace =" 3 "vspace =" 5 "align =" left "/> - Russia for the Russian, Moscow for Muscovites, but Come on, let's, ueb .. vay here - bawled guys in camouflage pants.
Came to the rally women shied away from "zaschitnichkov" and preferred to speak with the police.
- It would be a formal letter, I would have signed up under him, and this is what has gone there ..., - said one.
- It is not necessary, this whole populism nobody wants, all these cries ... - supports a second.
- Now start all these crowds going to be even worse now, this crowd gets drunk and go on to beat the markets these Hachiko - suggests the familiar, probably, the tactics of Russian nationalists pensioner. And those, in turn, did not disappoint.
- Yes ee Th ... they should be - to anyone not specifically addressing Snuffles pimply young man in the "Grinders", irrigating the area smell fresh, "Stary Melnik".
- So it's you they will be soon - mockingly said he was standing near a man.
- Come on in ... uy! - Surprised guy, but more compelling argument in its favor is not found.
- All right, enough already here to mark time, come on Manezhku plump - pushed to the side of his companion another "populist", tired of aimless standing and the need for shouting "murderers to justice."
- At Manezhku come on! - Shouted his more sober and vociferous ally.
Taking your debt before the leaders met, the Nationalists began to leave the place of meeting. Subsequently, many of them were in the police department. To some of them that day and could not be sober.
Click here to see this article in russian: Быдло в бархатных перчатках национализма
Arseniy Stepanov
©2006-2018 All rights reserved