Politics
20,000 Nashi held a rally against "the American show"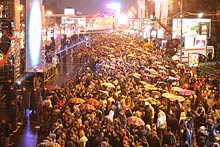 More than twenty thousand activists " Our "gathered yesterday near the U.S. embassy in Moscow with" Halloween "pumpkins in their hands. Candles burning in each pumpkin, symbolized the grief of our service for the victims in Korea, Vietnam, Iraq and South Ossetia - the victims of cruel war waged by the state with the most odious foreign policy ambitions - the United States of America.
The activists of the Nashi urge the public to think about and as soon as possible to stop the endless "American show" that transformed the world into a playground of Washington politicians and Wall Street. Tomorrow in the list of sacrifices the U.S. can get every one of us, our relatives, say "Our".
U.S. Foreign Policy, Presidential Election, the global financial crisis - all part of the big American show, paid hundreds of thousands of innocent lives. For many years the whole world is subjected to economic, political and military pressure of America. For the week of the war in South Ossetia, McCain's rating has increased by ten percent. And the ten percent cost us two thousand lives. We came here today to ask the international community a question - what else we are ready to sacrifice for the sake of political games in the U.S.? "- Spokeswoman said the movement" Our "Christina Potupchik.
Simultaneously, a similar event was held in Belgrade, in front of the Ministry of Defence of Serbia. More than half of thousands of young Serbs have gathered here to speak out against U.S. foreign policy, to pay for the lives of thousands of their fellow citizens. Local activists have brought the pumpkin to cut through the eyes and mouth, and in the end of the rally lit candles are inserted into the pumpkin.
Click here to see this article in russian: 20 тысяч «Наших» провели акцию против «американского шоу»
shevchenko_e
©2006-2020 All rights reserved