Politics
Ludmila Alekseeva: "Fascism is fraught with the collapse of the state"

Russia hit by the virus of Nazism. St. Petersburg, Orel, Nizhny Novgorod, Rostov-on-Don, Krasnodar. Today, the skinheads are a well-organized community. They boldly go march through the streets of our cities, throwing the weight of appeals to fight the infidels, maim and kill people of color, brazenly celebrate "great" date associated with the history of the formation and development of fascism. That can be countered unleashed orgy? About the same time, our columnist speaks with renowned human rights activist, chairman of the Moscow Helsinki Group Lyudmila Alekseeva.
- Lyudmila, in May this year, many NGOs have initiated the establishment of the All-Russian Anti-Fascist Front. Does this mean that in the public mind the state and the fulfillment of functions in the protection of human rights have been separated?
- You can not say that human rights activists believe that the state is looking at the prospect of fascization society through his fingers. The onset of fascism, and our committee puts it in his manifesto, we consider as a serious social malaise, and the disease can not be cured efforts alone officials. We believe that this movement should take an active part in public and non-governmental organizations. This is the main purpose of creating such a Popular Front. Agree, chances to win over the "brown plague" is much greater in those who combined their efforts. When state and society work together.
- Just over a month ago, the State Duma on the initiative "United Russia" took , "Anti-Fascist Pact . Are you ready to join him, and if not, what prevents to take this step?
- We are a social movement. And we are ready to cooperate with the government. He has his means of influence, including the courts and the army. We - his . I'm talking about the organization of public opinion, which is very important for the present stage of development of Russia. With regard to the state, we believe it can use its power more efficiently. After all, many crimes motivated by racial and religious hatred with impunity.
- Give specific examples ...
- Has almost become a daily reality murder motivated by ethnic hatred, checking "persons of non-Slavic appearance" on the streets and subways, police extortion of money and much more. All this creates an atmosphere of mutual hatred. And the beatings of foreign students, migrant workers? Or take one of the most high-profile cases - an attack on a synagogue in Moscow. The court used all the loopholes to evade the specific definitions, in the sense that it was done on the basis of religious intolerance. And this is a very bad signal. So create a precedent for further aggressive action.
- Do you think that is why government closed its eyes to this?
- I can not say, because the government consists of specific people. Some of them come from greed. Someone - for negligence. And there are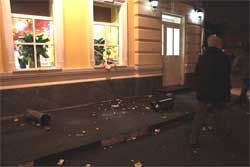 those who are infected with the virus of nationalism and supports it in any way. Our laws are written that allow courts to avoid making unambiguous decisions on any sensitive matters.Not only that part of the state should not be an adequate punishment, the authorities often shows his lack of understanding of processes and latent danger of fascism in our country.
Here's the most glaring example. November 4 last year, the Day of Reconciliation and Accord, held in Moscow on an impressive demonstration of the movement with a truly Jesuit name - " Movement against Illegal Immigration . Chief was the slogan "Russia for the Russian." Where in this case to do with the Tatars, who live in the Russian Federation not less than themselves Russian, or the same Yakut, located on their traditional territories? This suggests that the name of this movement does not correspond to its goals and slogans. It's not that the state has no power, and that it cares little about the performance of its functions to protect the constitutional order. But even if power is tried, it is still part of informal associations in the fight against fascization society is necessary.
- Or maybe it is a disease in transition?
- We have 1000 years to a pass, and so far have not moved anywhere. If he goes on and on, soon from Russia would be nothing left.
- Who is ready to support the movement of anti-fascists?
- There is a steering committee, comprising 75 known politicians and human rights movement. Greater support is provided by the Union of Journalists. In May we held a joint campaign - the contest of the regional press "Russia without hatred and enmity." Its winners have agreed to be our mainstay in the field. Journalists - the most mobile segment of society, and it was through the press, we intend to deploy an active anti-fascist propaganda. In addition, all of our founders and information sponsors have their own websites, and this is more than two dozen resources, and we will use them to spread our point of view. First find out what part of the Russians accept the idea of anti-fascism, or, in any case, our movement is ready to provide moral support. Closer to New Year summarize, and then it will be clear who is with us, and who - against.
I am deeply convinced that the educational work should be conducted not only among ordinary citizens - we need it and in the environment of those in power, bureaucrats, very nice sitting by the State, whose interests do not always want to protect. Such a huge and diverse country like Russia, simply fall apart if we let the fascist victory.
Alexander Sidyachko
Click here to see this article in russian: Людмила Алексеева: "Фашизм чреват распадом государства"
igor_k
©2006-2020 All rights reserved