Sex
Bare the secrets of men

British site lovehoney had a very unusual poll on the features of masturbation in men of different sexual orientations. The main goal of the organizers of the study placed to know how many hand movements need a man to reach orgasm, ending with ejaculation.
Thousands of participants was given a special cream for masturbation Stroke 29, which, according to the manufacturer, brings the men to ejaculation after 29 moves.
As we see, first place for sexual stamina, get heterosexual men. Apparently, this affects training for female partner, which require continuing banquet, even if it has already ended.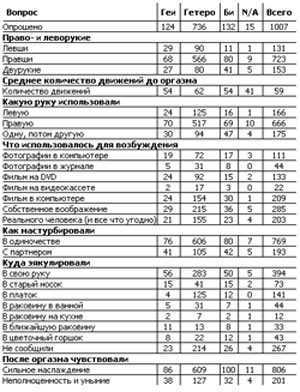 Click here to see this article in russian: Оголенные мужские тайны
Андрей Гальперин
©2006-2020 All rights reserved