Sex
Do not rush to finish early!
Sometimes, in an editorial post are kind letters, in which young and old people complain about premature ejaculation.
"With the sexually mature age, I suffer from premature ejaculation. Acquired special condoms and sprays for the suppression of the sensitivity of the penis. With his girlfriend, we tried the technique the delay at the start, unfortunately, all without success. Even when my girlfriend gets satisfaction before me, it does not bring me pleasure! What should I do? "
Sexologists recommend the following. Once again, remember, when you start premature ejaculation. Maybe you have underlying causes, such as fear the first time, disappointed in love? At least, it is very important to avoid the fear out of early ejaculation. Take a look at sex, not only in terms of sexual intercourse.
Gallery: The geometry of the body: the circle to which you want to touch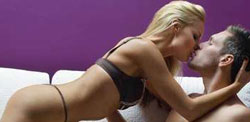 In erotica, there are alternative methods!
From the standpoint of technique you have chosen is quite an effective method of so-called stop at the start. However, it is important that you properly perform this exercise. First, try to have your partner stimulate the penis, holding on his hand from three to five times. It is very important that you learn to control the arrival time of orgasm. Later time, this exercise can be increased.
Very nice addition to this activity - compression technique
Partner greatly compresses the head of your penis in order to suppress a possible reflex of ejaculation. Another way to prevent ejaculation - pressure in the perineal area. The success of such methods is quite high, presumably due to the fact that loving couples always have the time to try them in bed. During the execution of these exercises, you should masturbate your partner - it will give pleasure to both, and not turn into a dull follow the instructions.
Gallery: Locker Room Beauty Contest married ladies
Alex Zotov
Click here to see this article in russian: Не торопитесь рано кончать!
snezinskaya_e
©2006-2020 All rights reserved