Love
I like fall for ...
When a man in love - it feels thinner - it involves some sort of sixth sense and in another, brighter world is perceived. If love is unrequited, the world is gray-blue, if lucky - intensely red. I like to fall in love, and I love it when they kiss in the subway.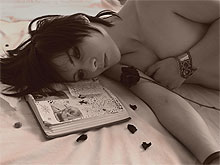 Time - is a myth, the legend, which is given to people who entered into the cells of the senses, for salvation from the chaos. Those who fall asleep lethargy - not change - paralyzed in time. Then wake up and catch up - hard age. In fact, everything exists at the same time: past, present and future.

No matter how delicately organized man, he still coarser women. That she was born to care for and love. And its bringing up a child - to be strong and endure. She will always love: her husband, son, lover - more than himself (bitchiness at times - just a way of self-preservation). Afraid that the noble men capable of at least sympathize with, there are so few.

All of us - people - has bungled from one single piece of dough. From sourdough, rising from the bottom of one oak barrels. Someone bagel, someone loaf, and who is a piece of bread. When we hurt our neighbor, we are also damaging himself - speaks ...
Because we and torments of conscience. Because it is difficult sometimes even in war to kill a man. Killing another - we kill ourselves ...
See picture stories in the section Erotica

Marina Suranov
>
Click here to see this article in russian: Мне нравится влюбляться...
grigory_r
©2006-2019 All rights reserved