Society
Kasparov kept silent about the International Day Against Homophobia
On Saturday in Moscow hosts meeting of the so-called "National Assembly". Speaking to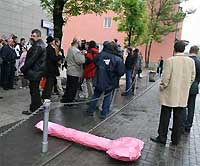 gathered leaders of the United Civil Front, Garry Kasparov announced that May 17 was not chosen randomly for the first meeting of the National Assembly. " According to him, this day "marked by many events in the world and national history."
Among other things, 17 May - International Day Against Homophobia. However, this Harry Kimovich rather not mention. Although it is from today the gay movement activists intend to picket the Russian Prosecutor General's Office, where they complained about the capital's mayor, Yuri Luzhkov, has consistently prohibiting the holding in the Russian stollitse gay pride parades.
Attempts to distance itself from the problems of gays by Garry Kasparov and other participants of the "National Assembly" is not entirely clear. Indeed, in his speech, he emphasized that the Assembly delegates gathered, overcoming fear and prejudice. " It seems finally to get rid of prejudices have not been able ...
The total number of so-called "National Assembly" attended by about 400 people, Interfax reported. This is almost two times less than the originally announced number of delegates, of which the organizers have counted about 700.
In the National Assembly refused to participate Yabloko, the Communist Party, the Union of Right Forces and unchecked the "Russian People's Democratic Union Mikhail Kasyanov.
See also the photo report the National Assembly to support the homeless

Click here to see this article in russian: Каспаров умолчал о Международном дне противостояния гомофобии
©2006-2020 All rights reserved