Entertaining News
Airmen celebrate their professional holiday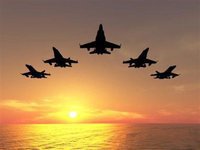 Air Fleet Day celebrated in Russia on the third Sunday in August according to Decree of the Presidium of the Supreme Soviet of the Russian Federation dated 28 September 1992. Thus, this year the festival falls on Aug. 15.
This is a professional holiday of those who dedicated his life to civil aviation, which began to develop in the early last century. Celebrate Air Force Day today across the country will be civilian and military pilots, as well as aviaremontniki and aircraft manufacturers.
Traditionally on this day are festivals and events. First proposed to celebrate this day Joseph Stalin, who established a tradition of 18 August 1933.
Today the fleet of Russia has about six thousand aircraft: 3930 aircraft and 2040 helicopters, which is enough to meet all flights. However, until 2012 will substantially expand the fleet of military transport aviation of the Russian Federation. The following year, air units will also receive a new IL-12, and from 2012 - IL-476 (deep modernization of the Il-76). It is worth noting that aviation special work in agriculture, oil industry, and participates in fire suppression and emergency situations.
Twelfth August 1912, the last emperor, Nicholas II, Imperial decree ordered to form a first air of the Russian Federation to the General Directorate of General Staff. In fact, he created a new genus of the armed forces - the Air Force of the Russian Empire - Imperial military fleet.
In 1918, after the October Revolution was created by the worker-peasant red fleet. In honor of this event since 1933 Professional airmen day was celebrated on August 18 as the Day of Air Fleet of the USSR.
Click here to see this article in russian: Авиаторы празднуют свой профессиональный праздник
©2006-2019 All rights reserved