Hi-Tech
The Japanese built a paper bridge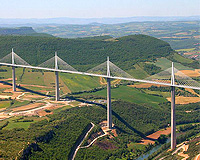 Japanese architect, inventor and proponent of "green" technologies Shigeru Ban (Shigeru Ban), head of Shigeru Ban Architects, built in the south of France, the bridge of a paper. Thrown over the river Gardon (Gardon) pedestrian bridge can withstand 20 people at a time.
It is noteworthy that Ban has put his unusual bridge just eight hundred meters from the Pont du Gard (Pont du Gard) - the largest Roman viaduct, which has remained to this day. As conceived by Shigeru, it should create an interesting contrast between the stone monument of architecture and the creation of paper, between ancient and modern technologies.
The bridge is made of 281 cardboard tubes, each 11.5 inches in diameter with a wall thickness of 11.9 millimeters. Step molded from recycled paper and plastic recycling, and the foundation served as a wooden box filled with sand.
To test the strength of the bridge on the steps put a set of balls with water, weighing 1.5 tons.
The bridge will run for six weeks, after which it is dismantled in anticipation of the rainy season. Reports Membrana.ru.

Click here to see this article in russian: Японец построил бумажный мост
©2006-2020 All rights reserved