Billboard
Tokio noted in "B-2"
That they sing a soulful whisper from which goes insane thousands of girls, "When you're crying ...". This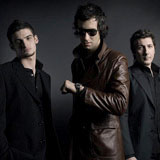 song was the soundtrack to the movie "Heat" and stayed in a hit-paradata for 30 weeks. And the eccentric lead singer Jaroslav causes a lot of rumors and gossip surrounding his person.
Group Tokio - winner of Russian Music Awards - 2006 in the category "Rock Project of the Year." "Today, we sound like the most modern and most fashionable group in the country," - says Yaroslav Tokio soloist. Now the radio and television stations can see and hear a new song of the collective "We'll be together."
Musicians have appeared on the Moscow stage in 2002 and quickly gained independence and own identity. The first student was a good friend of musicians Gosha Kutsenko. In 2003, Tokio shocked Festival Maxidrom, and after him "Megahaus, at the same time reporters dubbed them the appearance of" breakthrough year "and" new sensation ". In 2004 the group gained momentum, performing in major clubs of Moscow, and next went on tour in Britain, Spain, France and India, where he has performed on stage with Tricky and Massive Attack.
Today, musicians Tokio continue to write music for films. They write the soundtrack for the new film by Roman Prygunova "Solitude of Blood", a painting of a novel "Inhabited Island" and several projects in France. Canada and America.
Hear the music live and see as close as can all those who come to their concert in club "B-2" on March 9.
Click here to see this article in russian: Tokio отметится в «Б-2»
©2006-2020 All rights reserved