World Stars
The Princes are looking 007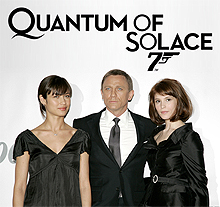 William and Harry attended Windsor's most prestigious movie premieres of the season. In "Odeon" - the best cinema in London - in the range of specially invited to the private screening vipov, they looked at "Quantum of Solace." 1922 Bond movie. James Bond.

Among the members of the House of Windsor decided to visit the iconic movie premieres. On the show Jubilee 20-series Bond "Die Another Day, but not now" present herself Elizabeth II and the duke of Edinburgh Philip.
When the film premieres Princess Diana visited, had even beleaguer nearby neighborhoods - to look at Diana gathered thousands of onlookers.
So it was at this time. Thousands of Londoners occupied the Odeon, hoping to corner of my eye to look at the young princes.
However, apart from them on the world premiere of profits and playing the main roles. Daniel Craig in a dark tuxedo - it is already called "the best Bond", at least in terms of physical fitness. Olga Kurylenko, who plays a girlfriend of the agent 007, and the Ukrainian top model arrived at the Odeon in haute couture dress. Of course, at the premiere of the picture and was a veteran of "James Bond" Judi Dench and director Marc Forster movie.
Before the premiere of the picture in the lobby of a luxury cinema, the film crew was represented by Prince William and Harry. By the way, at their request, proceeds from the premiere of the paintings in the Odeon will be sent to two charitable foundations supporting war veterans.

After the premiere a gala banquet attended by over 500 guests. And in the "Odeon" late at night was an extraordinary public display of "Quantum of Solace" to anyone who could buy a ticket.

In Britain the picture rolling out on October 31. In Russia, the film begins on display from October 6. However, our press has looked at it. Even before Windsor.
Alexander Gray
p>
Click here to see this article in russian: Принцы смотрят 007
urushev_p
©2006-2020 All rights reserved