World Stars
New Russian Kalinka from Leschi Vorobiev
Creative Alliance Alexei Vorobiev and Choir. Pyatnitsky launched at a ceremony MTV "kinonagrad" continued almost immediately - on video shoot Vorobiev for the song "New Russian Kalinka"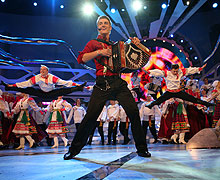 The song, written specifically for Vorobyov <ESC> in two languages, originally contained a fair share of self-irony and combines Russian folk tradition with the most modern sound. Therefore, in the clip Lesch, along with director Dmitry Korobkin decided to combine incongruous - the clip will start as a street youth with a history of dancing, beautiful girls, stritdenserami and these stunts, which are traditionally performed Lesch himself - through the story his character is endowed with super-abilities, so the audience waiting for humorous Leschine extraordinary footage <heroism>.
- Usually, I will never rehearse, - says Alexei - but in order to make this a really cool street dance, had to sweat for a week.
During the filming of the most striking impression left by Vorobiev concert scene in which Lesch working with the legendary folk chorus of them. Pyatnitskiy. Alex is still a huge impression on the professionalism of this team:
- It turned out that all 97 persons artists Choir. Pyatnitskiy very young, almost my peers, so we easily found a common language and lit all night for real - even staged a jam session between me and the accordion choral orchestra! The guys are really like modern music, and we decided to do a joint concert program, which will be to implement my idea of uniting tradition with the latest trends!
>
Click here to see this article in russian: Новая Русская Калинка от Леши Воробьева
urushev_p
©2006-2018 All rights reserved