World Stars
Leonardo DiCaprio will perform covenant beloved grandmother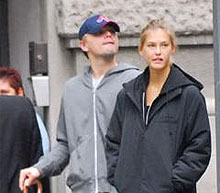 One of the first Hollywood celebrities have this Friday will arrive in Moscow. Leonardo DiCaprio will hold in the Russian capital at least two days.

On the first day of his visit, late at night, Leonardo Di Caprio to take part in the secular party to mark the 60 th anniversary of Land Rover car company. The event will take place in one of the most prestigious clubs in the capital and will last deep into the night.
Despite this, the next morning the visitor from America to take part in the wedding poto in Red Square. Meet the stars with his many fans - is unknown. It is not known and what is delayed is DiCaprio in Russia after the October 25. Although it is not possible in any case to visit our country artist wanted for a long time.
Acquainted with Russia dear grandson and bequeathed his beloved grandmother - Helen Indenbirken. Of Russian origin (Elizabeth Stepanovna Smirnov), she spent her life in Germany, which long ago moved from Russia to its ancestors. Russian German woman did not want to move from Europe to America, where she lives her famous grandson, but has not forgotten how to understand in Russian.
Alas, in August this year, Ms. Smirnova - Frau Indenbirken died at the age of 93. And did not wait for grandchildren. However, Leonardo, who is currently dating Israeli model 'Bar Refaeli, says that is not yet ready to make to have a family.

Alexander Gray
p>
Click here to see this article in russian: Леонардо ди Каприо исполнит завет любимой бабушки
urushev_p
©2006-2019 All rights reserved