World Stars
Al Pacino began to turn blue in the fingertips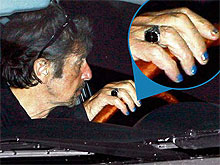 Despite the worldwide popularity of Al Pacino's star does not suffer from the disease. On the contrary, the actor famous for his categorical rejection of incense around his name. Giving interview Pacino prefers touching personal fact wherefore his life remains publicly mostly mystery.
- Vanity - my favorite sin - once confessed to Al Pacino.

And with good reason. At least, it concerns sin panache. It suffices to look at the coated cobalt blue lacquered nails of the famous actor. As such, the 68-year-old Al Pacino cuts through the streets of Beverly Hills. That does not go, and "cuts" because he could not learn in driving school, because his whole nature rebelled against the teachings and instructions.

Alex Zotov
>
Click here to see this article in russian: Аль Пачино начал синеть с кончиков пальцев
urushev_p
©2006-2019 All rights reserved