World Stars
Bond - Bernard - 007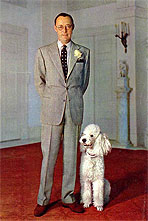 Who just did not call in a series of prototypes of James Bond. Among them was even a Soviet spy ultradeep conspiratorial. Edakii spy-illegal immigrant who served and yours and ours. And it turns out ...
Dutch writer Eric Varekamp - author of a monograph on Prince Bernhard - argues that the latter - and there is none other than the prototype of 007.
Prince Bernhard - the father of the current ruler of the Dutch Queen Beatrix, which, incidentally, very similar to his father - both externally and, alas, not the lady's article.
See also:
Blue blood of royal heirs
Blue blood of royal heirs. Part 2

Prince Bernhard, whose full name - Leopold Friedrich Eberhard Julius Kurt Karl Gottfried Peter zur Lippe Bisterfeld - born June 29, 1911 in the town of Jena in Germany and lived a long, 93-year life.
He managed to surprise many. As a chemist, he served in the German Secret Service, wrote poisons, he joined the SS and even in the ranks of Hitler's party. However, personally in any atrocities Prince Bernhard has not been noticed. Anyway archival sources about this silent. A resident of Holland, the German prince was because he married Crown Princess of Orange, the future Queen of the Netherlands Julian.
Being a man of more than adventurous and not alien to a certain conformity, a secret from his wife, Bernard joined the MI-6, where he met with the personnel agent Ian Fleming. Well, he was already in the novel "Thunderball", introduced his new friend and colleague in the image of a Count Lippe.
But it soon turned into Bernard, who became world-famous, 007. However, Ian Fleming himself always insisted that the prototype Bond - his elder brother Peter Fleming. However, all who knew him closely Bernard, always claimed the opposite, noting that the prince is very similar to the 007 - the same gallant, brave and amorous.
See gallery: All the angles of the new Bond girl
But in the life of Prince Bernhard and the fact that it differed from James Bond. All my life Dutch prince collected celebrities. Said that he was familiar with all the "vipami" world. And they, in turn, have always been proud familiarity with the living Bond. James Bond.

Alexander Gray
p>
Click here to see this article in russian: Бонд – Бернард - 007
urushev_p
©2006-2019 All rights reserved