World Stars
Tarantula named Tarantino
In the new film by Quentin Tarantino's "corrupt bastards", where the main role is played by Brad Pitt, is removed and another movie star - Michael Madsen. This giant under two meters tall called favorite director. The following is an interview with Madsen that he gave reporter Yoki.ru.
- You have long been familiar with Tarantino?
- For almost 20 years I love him terribly and I admire them.
- So you and he, too, they say, love, and more than others.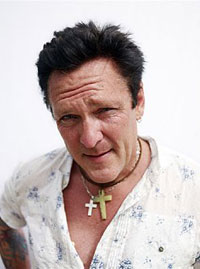 - It is possible that this is so. I just filmed a lot of Tarantino and now plays in "dishonest Basterds."
- Sentimental name ...
- This is a remake of an old movie about World War II. For Quentin, he quite unexpected. But Tarantino is to be not just a comedy. He is in every picture brings a second, your own meaning. Of course, he carefully studied that era, and it will, no doubt, quite authentic, but still in first place will, as always, his imagination. Because to think so as it knows how to make Quentin, can not nobody the whole world.
- They say that Tarantino was greatly influenced by Carlos Castaneda, primarily in terms of religion and mysticism. Is that so?
- I can definitely say that I was influenced by Tarantino. And in all plans. A. Above all, he just ordered me one time ticket to a great movie. As for Castaneda and mystics - I do not think she is particularly interested in Quentin. And then he does not like to read it so rare to catch with a book in their hands. If Castaneda and influenced him, then later Tarantino still clocked up over something of their own. As for religion, then here I am, for example, a religious man, and Quentin ... I do not know. I still love him very much. I have a home in America, in my vast collection of animals: horses, dogs, cats and a tarantula. I called him Tarantino. Quentin acquainted with him.
Interviewed by Alexander Gray
Click here to see this article in russian: Тарантул по имени Тарантино
snezinskaya_e
©2006-2020 All rights reserved