World Stars
The Naked Truth Lady Helen Mirren
British film star, who played Elizabeth II, open up in earnest. In her memoir, there are about sex and about drugs, and about rock 'n' roll.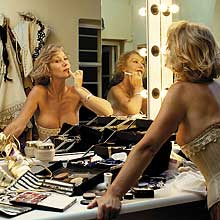 The granddaughter of a Russian emigre aristocratic blood, fled from Russia after a 17-year, and the favorite of intelligent filmmakers, Oscar-winning lady Helen Mirren (Eileen Lydia Mironoff) who just did not play. 63-year-old actress was a widow and an Irish fighter, and Lady Macbeth and Queen Charlotte, and police detective Jane Tennison, and even the virgin queen Elizabeth the First, and of course, Elizabeth II.
Lady Helen Mirren received an Emmy, Golden Globe, the Palme d'Or, "Well," Oscar "- for" The Queen. "That, however, does not prevent the artist insult to Her Majesty, after rejecting an invitation to dinner at Buckingham Palace . And it was not the first sign of neglect on the part of Lady Mirren at Buckingham Palace: In 1996, she refused the Order of the British Empire, which, though later she still was awarded, but only has a higher degree, and with the title of "Ladies".
At the same time, the Lady Ellen is not devoid of taste, and it is recognized as one of the most stylish dressing celebrities. Finally, only that it has released yet and scandalous autobiography. In his book "In the frame: My life in words and photographs," she says sumnyashesya negligible, as it turns out, it is easy to undress in front of the camera, and do it face-lift (the actress admits that removes facial wrinkles with the help of special technology «airbrush» - translated from English - "air brush" - which beauticians called "painless alternative to plastic surgery").
"In 18 years I was still a virgin - writes Lady Mirren. - But then quickly catch up. " "Remove her clothes in front of the camera is as easy as drinking a glass of orange juice - she confesses. - I - for honesty in the performance of roles. If you need to undress, a simple skin off his clothes. "
And this is it - a fan of rock bands 60's - played a prim queens. Who would have thought!
Why are there - is a young lady Ellen "amused" LSD. But ... just once. "It happened when I take walks in the countryside with the company of my bohemian friends - an actress recalls. - When to try a drug, I first experienced the sensation of simply divine. But then I stole a terrible fear. And I swore to myself never to take psychotropic drugs. "
And yet could not help cocaine. However, and this "fun" she had to refuse. Why? Because Nazi war criminal Klaus Barbie selling them in Latin America. Well - at least as well. But here's cannabis ... "from hemp, I felt unhappy, I have even been cases bouts of paranoia," - wrote Lady Mirren.
After all this testimony star on the sexual theme well, just look innocent. Well, who do not happen in the college years. Was with her. But here's what Lady Helen of 50 years appeared nude on the cover of a magazine ... wow! As they say, is worth a lot.
Alexander Gray
>
Click here to see this article in russian: Голая правда леди Эллен Миррен
urushev_p
©2006-2020 All rights reserved