World Stars
Tattooed Prince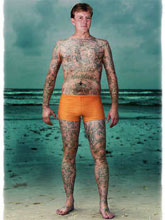 Is 41-year-old Dutch Crown Prince Willem-Alexander from head to toe covered in tattoos? Fortunately, no. It's all the handiwork of the German artist Henk Shiffmahera who created the photo montage.
Creation Wizard presents a new exhibition at the Historical Museum of Rotterdam. Pictorialist made installation, in addition to the Prince of Orange melting. In the promotional picture was placed on a tram, plying around Rotterdam.

In an interview with the Netherlands newspaper "De Telegraaf" Henk Shiffmaher said: "In the past it was considered quite normal that members of the royal family had a tattoo."

Alex Zotov
>
Click here to see this article in russian: Татуированный принц
urushev_p
©2006-2019 All rights reserved