Scandals
Our stars robbed in St. Petersburg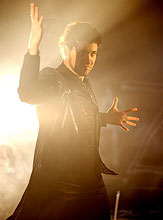 Singer Vladimir Bril, who began his career working with Joseph himself Davidovich Kobzon now flush began his solo career. He took off his debut music video for the song "Dura-love."
The protagonist of video, such a modern Onegin, who is looking for love among men, "living" on the Internet. All the action happens in the near future, the Internet, located on the edge with this. The shooting took place in an abandoned boiler room on the shore of the Gulf of Finland.
Director of the video Denis Bugaev, describing the future, painted a truly appalling picture. In his view, the global network and the process is fully capture us, and even our consciousness. The whole video on a gloomy catacombs people go with the monitors instead of a head, they communicate with each other only by means of laptops, sitting with his back to each other and, moreover, kiss through a flat computer monitor!
In this world, like a ray of light slips silhouette of a beautiful stranger. And throughout the video the protagonist is looking for her. Examining, meter by meter, all the rooms. At the end of the clip, as usual comes: happy end. Heroes meets the eye, and immediately fall in love.
Themselves the shooting took place at Kronverskom island, not far from our crime capital - St. Petersburg. The city has once again confirmed this title. During the break, before taking the last double, Vladimir Bril, coming out of a stuffy room into the street, was horrified to find that parked next to a Mercedes is a broken glass.
- Missing my papers, laptop, mini-disc already note of music, which was in single copy - says Vladimir Bril. - Apparently the criminals to guard our car because it broke just in time when our security guard went on a couple of minutes. The whole farce of the situation is that the incident occurred on the Day of Police. Maybe so, custody order, we have not waited. And I myself went to the police station. Because of what the shooting of the video were detained for several hours.
For a part, despite all the misfortune clip was filmed. Therefore, you will soon be able to see it on all the major TV networks.
>
Click here to see this article in russian: Наших звезд грабят в Питере
urushev_p
©2006-2020 All rights reserved