Scandals
Alexander Panayotov accused of a crime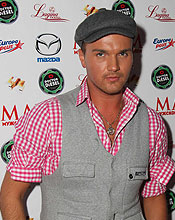 Alexander Panayotov was recently shocked by the news that he is guilty in the death of one of the fans.
And it all is that the actor became the latest victim of mad fans. There are many known cases where young girls pursue their idol, threaten, or attempt to commit suicide.
Thus, in one of the social networks, online artist, a young man accused of Alexander Panayotov in killings of his girlfriend. A girl a few months looking for a meeting with the artist, but without seeing reciprocity, made suicide attempts and now he lies in intensive care.
Alexander himself Panayotov considers such posts invention of people who by the artist want to satisfy their own unhealthy ambition or to attract attention.
"On the internet I have a few forums where I communicate exclusively with friends and acquaintances - commented Alexander. - At various threats, provocation, and even more so, the charges I did not react. Why. The main thing that I know that not my fault if someone has a problem with the psyche. "
>
Click here to see this article in russian: Александра Панайотова обвиняют в преступлении
urushev_p
©2006-2020 All rights reserved