Scandals
Yana Rudkovskaya against Otar Kushanashvili: to lead calls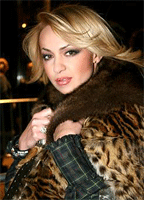 Several months ago, the producer of Dima Bilan Yana Rudkovskaya began to receive threatening phone calls. The caller seemed Otar Kushanashvili and promised to blow up a car Rudkovskaya, kidnap her ward, and also offered to buy compromising pictures that would otherwise get "the wrong" hands. Calls are received and to this day. In turn, Rudkovskaya written statement to the police and going to sue a prominent journalist and showman.
The scandal began as a bombshell. One day, Jan Rudkovskaya began calling the unknown person. All callers represent either Otar Kushanashvili or his friends were not shy in terms, blackmailed, and seriously threatened the woman. Dima Bilan's producer had no choice but to respond to the same attacker. "Telephone terror" lasted for about 2 months. 2 months later Rudkovskaya written statement to the police, and now the materials of the audit are in the Odintsovo ATC. Scandalous showman indicted on the following items: insult, threat to life and blackmail.
Was there Otar - that's the question? Each call Rudkovskaya recorded on tape, then to attach these materials to the application. But neither the long-term friendship with a journalist, nor women's logic does not have guided Jan to think that calling it does not Kushanashvili.
To their surprise, the records of telephone conversations were not only Rudkovskaya. Download them and had a good laugh could any Internet user. And, in addition to records on the site were posted comments ... Otara Kushanashvili, which, as it turned out, not the flock.
One day, after many calls Ksenia Sobchak, Boris Moiseyev, Timothy and other famous personalities, prank-motion (prank - an activity consisting in calls by a famous person with a parallel recording of telephone conversations), stumbled on the phone producer Bilan. Without hesitation, they decided to have found a new victim, and about 7 people have become daily pester Rudkovskaya their calls. Originally prankeram and had no idea submitted by Otar Kushanashvili, once they are simply called first-past in the name of the head, and got to a point. Moreover, Rudkovskaya willingly believed and began to wind up even more. It covers the "Flock" and promised to write obscenities on his statement. Pranki obtained excellent, they listened to thousands of people and Rudkovskaya preparing revenge, not knowing that revenge is wrong.
When a joke went too far, the application was in the militia, and Rudkovskaya started in all interviews to declare war showman, prankery continued to create chaos. As it turned out, the situation is very amused by them and terminate calls, they were not going to. By the way, confess to the crime, too:
"Ian is 100% sure that Otar persuaded his drunken friends to her nazvanivali. We do not feel sorry for Kushanashvili he boozer and drug addict, let him pay for it. He spoiled relations with Rudkovskaya even before we arrived, all my life, "six" in front of her family. And to admit or apologize to Yana it, we are not going too. We will call further ", - told us one of the callers prankerov, who asked to remain anonymous.
Sam Otar Kushanashvili still comes as a shock to some statements Rudkovskaya in his address, and phone calls from intruders. About who is calling and it is his name, Otar first heard from us:
"That to me is nonsense. I guys, they rarely call, and women, and even threats, ever. This case Piggy and sows. I'm ready to come to any court and give evidence. If Bilan and Rudkovskaya were smarter, they would realize that I'm their friend, and I need not call them, I swear by the memory of his mother.Several times I called Jan and tried to talk, but only heard of the curse in his address. Despite this, I want to be friends with Bilan, and Rudkovskaya. Yes, Dima became very bad songs after the death of Yuri Ajzenshpisa. But this is not a reason for me to call and threaten. I repeat, I will repeat: I did not call. "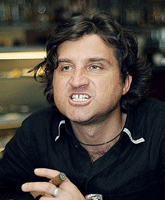 Yana Rudkovskaya records have not heard about prankerah knows nothing and continues to insist that the caller, no less, as once a friend and now enemy Otar Kushanashvili.
"I have a recording. And the voice I heard, too. It calls Otar, and he paid for it "- says Rudkovskaya.
Realizing the seriousness of the scandal, prankery quickly removed from the site all the records call "Flock" with Jana and lay down on the bottom. Most frightens them likely to come under the wrath of Victor Baturin, husband Rudkovskaya and prominent businessman. They believe that if John did make sure that for 2 months, she was threatened or Kushanashvili, then necessarily complain about a spouse, and so he just finds them council. And an example of how the stars to straighten out with a crash, they have: a year ago, people sought out Philip Kirkorov nazvanivayuschego artist prankera, and beat to a pulp. "If there is no one to intercede for prankerov then Otar just can dodge the charges" - the guys are confident. Despite its risks, prankery continue to call Yana Rudkovskaya, but now listen to the recording in private. And declare war on all artists. Where will this lead and who will win? We will continue to monitor developments.
Masha Klein
Click here to see this article in russian: Яна Рудковская против Отара Кушанашвили: куда приводят звонки
pavlova_a
©2006-2021 All rights reserved