Scandals
Group "Moving Heroes" was fined for Dieter Bohlen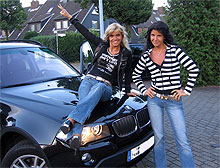 The incident occurred in the heart of Hamburg, right next to the building, where is one of the best studios in Germany. Famous for impulsive driving style, singer and producer Dieter Bohlen famously parked his Chevrolet Corvette right at the front door, it will naturally "clipped" quiet riding Volkswagen. An elderly German who was driving, was offended and called police to complain that the expensive car parked in a prohibited place.
Meanwhile, the building of the studio approached wards Dieter - Elan and Dzhenir from the group "Moving Heroes". Worker studio turns began to drive away the car. Therefore, the tow truck arrived at the police found near the building just a black "Boomer" "Moving Heroes".
Girls saved only what they forgot in the car mobile phone, at which agreed to return a few minutes. What was their shock when they saw his car hanging in the air! An elderly German was standing nearby and annoying shouting: "Do not take away that" she was white and the black! " Returning from the garage studio worker ran for help - for Dieter Bohlen.
Problem was solved purely in Russian - 130 euros in cash (the official fine and towing services would amount to 320 euros). Succeeded is precisely because one of the police was a fan of Dieter Bohlen and "Moving Heroes", and even German complainant against a black BMW had nothing.
But from whose wallet had been paid 130 euros - remains a mystery.
"If we had the whole day would have been left without a car - we would be comforted, because we love so much during the night drive on the Autobahn! Although, would be a definite plus - Dieter Bohlen would take us home ..." - Commented Alan.
>
Click here to see this article in russian: Группу "Moving Heroes" оштрафовали из-за Дитера Болена
urushev_p
©2006-2020 All rights reserved