Scandals
Grymov movie "Aliens" banned from showing in the U.S.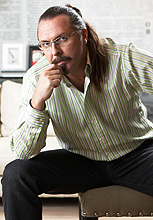 The apparatus of State Condoleezza Rice would not recommend it to a rental. Most likely this is due to anti-American sentiment picture, which is out of place on the eve of the upcoming U.S. presidential elections.
According to Assistant Grymov Nikandrov Alexander, the director is not aware of the causes of their disgrace in America. Neponravivshiysya U.S. Grymov movie "Aliens" - in English "Strangers" - about a group of American doctors who are sent on a charity mission to one of the eastern countries.
Starring in the film are American actors, and much of the filming took place in Egypt and Morocco. The film played only two Russian actors: they are both from St. Petersburg. Alex Poluyan played a major, Viktor Bychkov - Russian surgeon, was taken prisoner by the Arabs.
In St. Petersburg, moving picture presented on September 15. In the Russian hire "Aliens" will be November 13.
Its work on a film about the war in Iraq began more Yuri Grymov 2,5 years ago. In the interview the director confessed: in light of recent events in the Caucasus, he gives the film a special significance. The main thing - is in the modern world of global failure to understand that no society can not put himself above the other. You can not say: "We are people first tier," as Americans do. And to impose their ideology on the rest of the world, too impossible.
Yuri Grymov, director:
"For me, this is also a surprise. Because the U.S. box office, he had to go under the name" Strangers ". I think this is nonsense, but it can be. I do nothing about it reliably I do not know."
>
Click here to see this article in russian: Фильм Грымова "Чужие" запретили показывать в США
urushev_p
©2006-2019 All rights reserved