Scandals
IDEAL Frederick Begbeder in Moscow: Vodka, books, women, clubs
Author of popular novels "Holidays in a coma", "tales by ecstasy, and others, fashionable French writer Frederic Begbeder flew to Moscow was not the first time. At this time, to present his new book on Russia "ideals" (original title translates from French as "Save me, excuse me"). In addition to presentations and meetings with readers, a 42-year-old author has decided to refresh their four days of Frederick Begbeder in Moscow could be the envy of even the most avid party-goer. About what it means - to drink vodka with scandalously famous French writer and that you can succeed in Russia for 4 days, our special report.
As part of its global promotional tour of the writer or could not visit Russia, because it is about her question in his new novel "ideals." Begbeder landed at the airport on November 8 in the morning and immediately went to rest in a hotel Ararat Park Hyatt. In the evening the writer upcoming first meeting with your readers in the bookstore "Moscow".
Get an autograph it's a surprising number of people in the department of foreign literature was overcrowded. By 19.00 in the building of the book brought together some 200 fans of Frederick Begbeder. Thirsty get an autograph from the famous Frenchman, with books in their hands stood in a long queue. Scandalous author does not take long and about 15 minutes came at the door. The first words Begbeder said in Russian: "I - Muscovites!". And after already explained in French: "I often traveled to Moscow and decided to write a book, which takes place would be here to become Muscovites."
During the autograph Begbeder drawn to philosophy. He enthusiastically talked about Russia, its problems and terrorism: "I suggest two ways out of the situation - the religion and fatherhood. The beauty of today has become a utopia, and you are in Russia, know perfectly well that utopia can be very destructive. Plato says that the search for beauty - this thirst for God, and I decided that I should probably agree with Plato. The writer noted that the biggest problem of modern society is its self-destruction. "We made the transition from consumer society to a society of temptation, and these constant temptations we simply reduce the mind" - he said.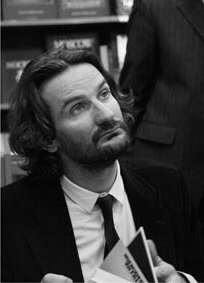 Autograph session at the bookstore "Moscow" lasted about two hours. Publishers Begbeder were forced to suspend her and invited all comers to another meeting with the author of "ideals". Frustrated fans after two hours in line parted, not without indignation.
On Friday Begbeder dined with journalists in an informal setting, shared experiences, talked about his childhood, religion, new book and likened France and Russia.
"Ideals" - Christian novel, about the search for beauty, and the work of the writer and there's this search. I would be glad if readers come back to say "thanks for the novel." But will also be touched, if they come to fill its head, because the artist must evoke emotion, "- says Begbeder.
Author and shared his impressions of his fellow countrymen about Russia: "The French believe that Russia - a country of beautiful whores and drunkards grave, but in reality is the opposite. Alcoholics in Russia, sublime, and prostitutes - brutal."
Talking about various things, Begbeder finally came to one, than immediately hastened to share with the media: Sarkozy closer relationship with newspapers and magazines, he loves sports, oversees the business and does not like foreigners. See how many similarities between Russia and France!And my hero, Octave, as well as Russia, thinks that getting rid of totalitorizma wife, but is still unhappy. "
After a press lunch at the Café Jean-Jacques, "the author" ideals "again went to the bookstore. At this time the fans were expecting Begbeder in the House of Books "on the Arbat, where he was late for half an hour because of Moscow's traffic jams. Appearing before an audience in high spirits, Begbeder took the microphone and with a funny accent saying: "Hello." A few minutes later he was ready to answer questions from fans who almost was not. Decided to proceed immediately to the book signing. Despite requests from administrators,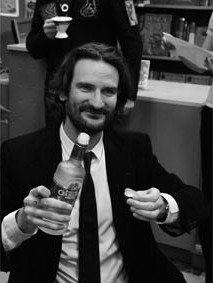 writer was not too lazy to sign every book "name" autographed photo with everyone and raise their eyes to every reader. The most beautiful in your eyes, girls, Begbeder invited to «GQ Bar», where the same evening was to be held "ideal" party with DJ Seth from the author.
To see a friend came and our Moscow writer, author of "Spirit less» Sergei Minaev. Greeted him with a Frenchman, he humbly stood in a corner and watched the scene.
One of the fans reached out Begbeder package, which lay a bottle of vodka. He did not hesitate to drink the first pile in front of cameras, not forgetting to invite the "sip" to all present. Wishing to have a drink with a Frenchman was found, and had to drink up Begbeder whole bottle alone. After such a dose nehily writer was to flirt with girls suitable for him, went to joke and laugh out loud. When Begbeder was quite tipsy, thoughtful editors sat in his car and taken away to be interviewed on the radio "Silver rain".
But there it was! At that time stuck in traffic, the Frenchman has decided to get to the subway station, got lost and went to the nearest Rostik's in Belarus. It was there that he found and an unknown girl, who happily dovezla it to the hotel. There, locked in his room, the writer had killed the mountain back in a couple bottles of "White Russian".
Closer to the night in «GQ Bar», as promised, showed up Begbeder. He was dressed exactly the same as in a meeting with your readers: a white shirt and black suit, completely consistent with the club dress-code. It seemed Begbeder and sober, the fashionable French writer, a mile bore vodka. Squeezed through the crowd to the DJ mixer, Frederick pulled out of the bag and began to mount drives to reduce the tracks, alternately diluting their Russian vodka.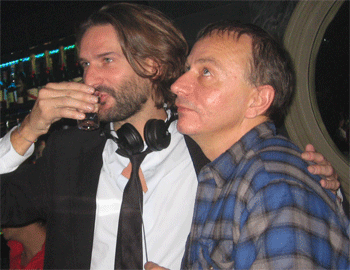 A little later he was joined by another French writer, skeptical dystopia produced in the same publishing house - Michel Houellebecq. That's really who just did not fit dress-code dearly «GQ - Bara», so this is it! In a simple shirt in the box, fairly rumpled and similar to the average Russian - in this man, journalists do not immediately recognize the author of "elementary particles". Unlike Begbeder, DJing Welbeck never fond of, so the whole evening was bored, sometimes looking at the dancers.
In addition to the world famous tracks from Begbeder sounded and Russian folk "Kalinka Malinka". Dancers «go-go» for a few seconds, froze, not knowing how to dance under it. Mr Begbeder happening, obviously, liked it, he smiled, tilting a glass of vodka for one, while not forgetting to add Mr. Houellebecq. He has already found something for the soul: Armed with a cigarette lighter, he read the names of tracks on the disc.
Failure was the idea of a lottery, stated in the invitation: first party, all guests were given bumazhechki with numbers.As planned by the organizers, Begbeder had to pull some of the lotto numbers and present the winners of the books with his autograph. Instead, the brand new "ideals" were to deal directly with the DJ console writer. All that remained was drunk and funny Begbeder - is to put autographs than he, in fact, engaged, periodically punctuated by a new music track.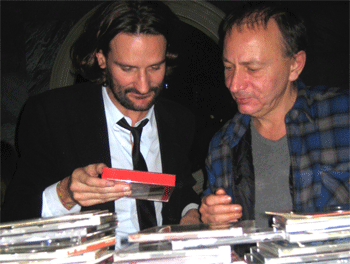 Their attitude towards Begbeder expressed member of the board and Boris Nemtsov, who was seen in the evening in the doorway «GQ Bara» in the company of two wives Pauline and Katie. Due to lack of free tables Nemtsov had some time to stand in the lobby of school. The proposal manager of the hall to get to Begbeder member of the board flatly refused, preferring to stand be frostbitten.
Two hours after the beginning of the "ideal" party Frederic Begbeder and Michel Houellebecq miraculously disappeared. Where they went is unknown. But judging by the two young girls next to them ...
November 10 at 15:00 Begbeder again signing autographs and answering questions, now in the bookstore "Hitlocation" in the shopping center "European". The writer appeared in the store at three, accompanied by an interpreter, smiling and charming, despite the previous night. He was again expected a large number of fans seeking autographs. The famous French writer did not get tired amazed how much he is loved in Russia: "I'm surprised so many Russian readers that come to my presentation, as the protagonist of my new novel, negative and unpleasant character." Signing autographs and compliments Begbeder left center for contemporary art "winery" where he was expected public debates with Michel Houellebecq.
Debate, as such, did not happen. Welbeck came 15 minutes before the debate, Begbeder same again made everyone wait, first called at the hotel to change clothes, and then after standing in traffic for half an hour. But the public did not disperse, the hall was filled to overflowing, empty seats were not observed, all were waiting. Among the waiting was seen and the Ambassador of France in Russia Stanislas de Laboulaye.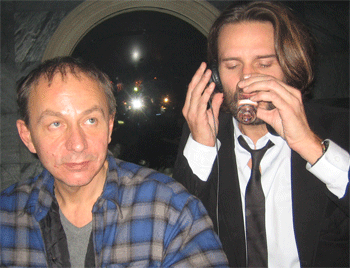 So really it began, the debate spilled over into a friendly conversation. During this conversation Begbeder in English asked the organizers to bring him a bottle of vodka. Having at hand a bottle of pleasant, he is a father discovered "Cranes" and poured on the pile itself and Welbeck. Then another one and another. Snacks, by the way, was not observed.
Being still in the sober mind, Begbeder talked about where in Moscow, he likes the most: "Of course, this embankment of the Moskva River" - shared a French writer, while Welbeck filled pile.
After a few drinks alcohol Begbeder extraordinary began to think, including about Russia: "I have in mind his own Russia, which, it is likely fake. In fact, there is no such. This is Russia of my dreams, fantasies and dreams. "
Asked about the differences between creativity and Begbeder Houellebecq, the latter replied: "We proceed from the same phenomenon - of frustration. Welbeck Just more writing about marginalized people, who ejected from society, but I rather the people who live in him, acting arrogantly and insolently ".
It turned out that the book Begbeder "99 francs" in next year's release of the film, where the author played a small role, disguised as a woman. On the question of why he did not fulfill the role of the protagonist of the book - Octave Begbeder said he did not consider himself an actor. "I'm just a writer" - he said.
hen someone from the audience asked whether it was true that the Welbeck and Begbeder arrived in Moscow to his illegitimate children, both writers have burst out laughing and left this question unanswered, thus giving many an occasion to reflect.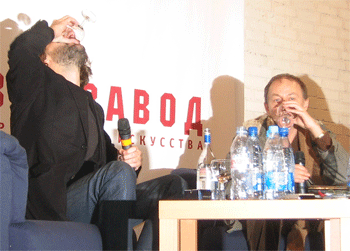 Such peaceful friendly conversations could continue indefinitely, but a bottle of "little white" empty, and famous French writers getting harder and confused answers to questions. In the end, the debate was, it was decided to finish, and journalists - to let go, and send both drunken writers - the hotels. But if Welbeck could sleep off and recover, then Begbeder expecting another party in the club «Most».
The last four days has passed for Begbeder a solid interview. Only journalists could see the crumpled form of the famous French writer, unyuhivat fume smell and keep track of how he finishes his own, for 11 bottle of vodka. Sunday evening Frederick Begbeder left Moscow, having gone down the country in support of his new novel "ideals."
Anna Pavlova
Click here to see this article in russian: ИДЕАЛЬный Фредерик Бегбедер в Москве: водка, книжки, женщины, клубы
pavlova_a
©2006-2018 All rights reserved