Scandals
Jim Morrison only imitated his death
The legendary keyboardist Ray Manzarek The Doors in an interview, suggested that the group leader Jim Morrison only feigned his own death in 1971. And until now he live, but live incognito in the Seychelles.
If Jim Morrison was still alive today he would have turned 64. 37 years ago, the famous singer was found dead in a bathtub in his Paris apartment. Officially, he died of a heart attack, unofficially - from an overdose of heroin. In Manzarek has its own version, which he expressed in the pages of British newspaper "Daily Mail".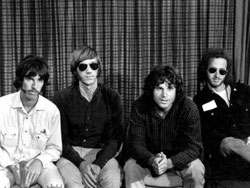 "Jim was a restless soul, in life he was always in search of something different, even six successful - and unbridled - The Doors's statements did not suit him," - says the 69-year-old musician.
"A year before his death, Morrison showed his colleagues a brochure on the Seychelles and said:" Not if it's an excellent place to escape, if everyone thinks you're dead? "
Manzarek then did not pay any attention to his words. "Jim was a very violent guy who constantly hovered with crazy ideas. But he was very sensible. "
When in Paris came the news of his death, Manzarek was in California. He did not take seriously a call band manager Bill Siddons, as he acknowledged today: "My first reaction was that it was all just rumors about the death of Jim."
Siddons went to Paris to learn the truth. But too late, as Morrison has the 4 th day of the funeral at the Paris cemetery Père Lachaise.
Under very strange circumstances. Nobody has the autopsy Morrison, immediately after his death he was buried in a sealed coffin. This suggests Manzarek on the following idea: "I often ask myself whether his death was a sophisticated hoax ..."
Igor Bukker
Click here to see this article in russian: Джим Моррисон лишь имитировал свою смерть
snezinskaya_e
©2006-2020 All rights reserved