Russian Personalities
Glucose: "My husband drives me to work"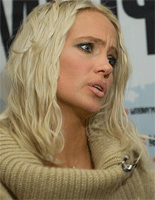 After a long creative lull, she returns to the scene. In six months in the life of Natalia Ionov, known on stage under the pseudonym of glucose, much has changed: she was married, had a baby and left the company "Monolith." What is it - the new Glucose? To dispel the rumors that had accumulated over half a year, and to clarify the situation, Natalia Ionova told us everything as is. Without Phonograms and notes.
- Natasha, looks absolutely luxurious. After giving birth, it is very difficult to restore the good kind. How did you manage to maintain the beauty?
- Honestly, dalos all seriously. After giving birth, I looked at myself in the mirror and fainted. But then gathered herself in hand and three months afflict my body, mocking him, went to the gym for three hours, ate everything just for a couple, tied his stomach in a knot concrete. Return to the form itself has turned rather quickly. In general, I was lucky for me and mom and dad skinny. Therefore, after the returned form, I now almost nothing do not limit yourself.
- How is your daughter?
- My daughter feels great. Yesterday came the doctor, because we have already started to erupt teeth, but only at the top. Vesim we are more than 9 pounds at the doctor choked and responded: "Wow! Weighs as much year-old child! "Well, that is, we are thick.
- Your husband approves your return to show business?
- My husband just drives to work, because I am very impulsive and energetic man. A lot of energy and just need it somewhere to send. When I'm home, I could put it mildly, to get anyone. And after I sat for five months after work at home, he said: "Everyone at work."
- You said that your image will change radically, that you have matured. So what will change?
- I can not say that I'm going with Marilyn Manson, with black eyes and hair. No, I changed internally, actually rose. When it all began, I was 15, now I'm 21, I married I have kids. A little bit everything in my life has changed. Because of this, everything that comes from me, my inner world is a different, richer, more full.
- Under what conditions Monolith gave you the right to brand "Glucose"?
- On any terms. There have been no negotiations, it is very easy to agree. I went out and very grateful to the company "Monolith" for what they so calmly and with absolute understanding responded to my care. We are with them are not just some sort of relationship at the level of cooperation. We have a friendly relationship, so the parting look completely different. I came to, she said: "I am leaving. My life has changed. I grew up. So I'm leaving. " That's all.
- For a long time, there were persistent rumors that the "Monolith" is looking for a new girl who will act under the name of Glucose.
- About the fact that there is some new Glucose is, I heard nothing. But if so it should be, I do not know why it did not take place. I sincerely wish them good luck, and if it was really interesting, it would be possible to sing a duet with a new glucose.
- Who is now the owner of rights and what will change in this regard?
- Unfortunately, I'm not a lawyer, so I can not answer this question. But what can I sing songs to produce videos or anything else to give to some products to its brand, these products were advertised, I can not.
Maxim Fadeev was your producer? Does not change its position from just before the executive producer?
- Yes, Max is still my producer. We all like it and left.
- Why was it necessary to leave the "Monolith", if everything remained as before?
- You know, I've matured. I became more free, more independent. Previously, we had a company that organized my concerts and my some kind of event. I just called and said: "Tomorrow you go back and then ..." But I was alone, I was free and was ready to go to the end of the world. But now I have a family, which for me at first. And if I suddenly realize that I want to be with their children, so today I want to be with their children. I own decisions, I go to a concert or not to go, speak to me for such a person or not to act. The only reason.
- Writing "Gluck 'on z and will remain the same?
- I think so.
- Recording the songs will be in the studio "Monolith" or some other?
- (Thinks). Record last song "Butterfly" was held in the studio "Monolith", the studio owned by Max Fadeev. The next song may be recorded in some of our studio. Right now we are building a new recording studio. Or again there.
- Will the album?
- You know, I do now, so think about this topic ... I think the album will not be. Songs will be the single release. I can not say at all or not, but have so far. Pirates and without all of us will publish.
- And how would you comment about that in "Gluck 'z and" You do not sing, and the wife of Max Fadeev?
- Oh, I so often commented on this information (smiles). That's not true, just telling you.
- Kushnir in his recent book "headliners" also wrote about ...
- Kushnir, and so, frankly, between us, a very long time working on the project "Glyuk'o and z". All his claims were paid, he paid for it. And until now, continues to receive them. Everyone knows that in show business as a sneer, and white. We tried every way to the black public relations not to resort, tried to abandon it. But Kushnir worked for our company and the project, and therefore writes, using black PR, apparently.
- But in this case it turns out that it is energetically promoting themselves and not you. After all, your reputation as ispolniteltsy suffered.
- You know, no. The fact that books produce newspapers are - thank you very much.
- Tell me about filming your last clip.
- The shooting took place abroad. Directed by Alan Badoev. I got a lot of fun working with one of the best directors, and received much pleasure from the team of workers. Clip itself is very gentle, there is the relationship between man and woman, as always in our songs about love. They meet each other. There's a lot of tricks. I had to learn yoga, all sorts of climbing, flips. I was horrified when I came and I laid out the scenario, and even declared that there was no understudy will not. This was the last bullet in my psyche. But nothing, I made it. Somehow this is very hard to tell because the video and it must be seen. When he appears, I can not say, but I know that he should have been delivered the seventh day.
- But this is not the only survey in which you had a chance to participate in recent times. Soon on the screen comes the film "Rud and Sam," where you played a major role. Tell us how you shoot, and how to get to interact with two classics of Russian cinema?
- Directed by Gregory Gyardushyan. Soon the prime minister. Frankly, I'm very very excited, she still did not know where to go and what I see out there. I have not seen the film, for me it would be something new. I hope that everything turned out. What Kalyagin with Dzhigarhanyanu failed - it is beyond doubt, but what concerns me - I still doubt it. When we worked on the film, I was three months pregnant. In principle, I do not hurt. I got great pleasure from shooting and just happy that I got acquainted with such professionals. And I think that if they still do offer, it will only agree to such large-scale paintings, like this one.
- What else is offered?
- Some proposals are received, but right something such, what interests me, yet was not. Although the company filters out everything carefully and I do not have to do this, as far as I know, received an offer to play in the series. It seems to me that I have not grown to this.
- So, an actor's career will last?
- So now let's see after the premiere. (Laughs).
- You were casting in general, right?
- Yes. I called and invited to come to the casting. Of all the contenders for the director liked me, but the producers - on the contrary. But the director has decided to defend my candidacy to the end, for which I am grateful to him.
- Fees for film comparable to those fees, which you can earn for a corporate gig?
- It's clear that singing career more profitable. Movie - it is such a thing, it is slower, more long. And so it needs more time to devote. Concerts - it flew, flew, played a concert, put on a hundred percent, he flew away. Time - and flew for another concert. And the film - it is such a monotonous, long but very interesting story.
- Musicians will remain the same?
- No, musicians, and we, unfortunately, will be concerned. These guys I already love very much, but just as I was leaving, the guys found a new job, and somehow pull them from there does not like.
- Glucose will be wearing dresses?
- Yes, but why not?
- And the audience will change?
- Well, about the audience I can not say anything. I hope that it will not change. My students will remain and add new ones. Creative change. That you can hear is the song "Butterflies". It is different. There heard that this glucose that is my creation, my performance, the presence of the hands of Max Fadeev in this song, but music is more fashionable. That was like the 60th year, and now it's something else, more fashionable, new sounds, I have added background vocals.
- You are at some time lost sight of the public. Your fans are somehow reminded of myself?
- I was very far away, and get through to me was hard. But there are some people with whom I have to
still communicate. Who know my e-mail, my ICQ, with whom I talk and say how my mood and what is happening to me. And they in turn tell us about yourself of course life goes on and I look, look how things change. And they have, and I have. It so happened that today I was shooting for a magazine at my school. I have long tried to persuade her to go, was some sort of fear. Eventually, I went there and saw all the teachers of their classroom teacher. I was perfectly met. Lessons were frustrated, the children were hanging from the chandeliers, for them it was just a shock.
- Number of performances somehow affect their price?/ Strong>
- No way. Not going to get cheaper.
- You can play songs by other writers?
- Of course, I can sing a song ... we still is not a colony, a free state. But unfortunately I do not see the point. I believe that Maxim - the best producer in the country. I'm happy that it was him.
- What was the last concert, at which you attended as a spectator?
- As a viewer, I think, was the last concert of the «Black Eyed Peas». I really liked it, got a lot of fun. It is a pity that the hall was not until the end was packed, because artists have worked on a hundred, and somehow lacked some excitement and shouting.
- A very direction of R 'n' B is close to you?
- I like it, but I can not say I like everything. I still more close to the music, which has a melody. I like a hard rock. I group «Linkin Park», but, again, not all of their songs, and are more melodic.
- It is planned any time soon any concerts?
- I think that as soon as such specific big solo concert will not be. Since February, the month begins tour across Russia. I think that Moscow would be included.
- The combined stats of the "Golden Gramophone" and "Song of the Year" you do not participate?
- The "Golden Gramophone" I do not participate, because this year I have long been absent. But maybe I'm someone to give the award.
- What are the attributes of the Kremlin-Rublevskaya wife you now have?
- I have never indulged in anything and before I knew her husband earned a good thing. Therefore, all that in my life was everything and left.
- What's humming your daughter?
- She loves the song "I'm lying in the sun", "flee awkward ..." song Bremen Town Musicians. I know only two songs, so a little bit, but specifically bought the CD and put in a tape recorder, and together we will quietly sing along.
- My daughter is a nurse while you dissect the expanses of our country?
- Yes, the nurse, with her parents. Prior to that, our nanny was raising an older child, and when we asked to intercede on her second serious "watch", she gladly agreed. We fully trust her, and it suits us. So look for a new nanny has no meaning.
- You accept the idea that because of family or any other circumstances zavyazhetsya with a career?
- No, not in any way.
- You continue their education? Are there any eye on any college?
- It would be desirable. I have little interest in the paper, so that no particular university in mind while there. I look at our lives and realize that these pieces of paper on higher education did not give. Looking for professionals, and no connection has not even help. Already people are trying to find the real professionals, no matter who it is that he is. I can not say that it will definitely be some sort of institution, Cinematography or something. But I know exactly what I want to develop in the actor's direction, as in the music I developed Max Fadeev. And in the acting very much like to, but there's no time. In the economic area, I, especially myself do not see. At school I had a triple, if not solid deuce.
- While you went on maternity leave, Maxim Fadeev, new projects. Are not you afraid that all of his time he will devote to them?
- No. I never was afraid. Maxim has always been very kind to me and the time he has enough for everyone.He is so versatile that he can not do something alone, he needs a lot, and he manages to somehow keep pace with everything.
- Many artists, after several years on the scene are taken to develop young talent. I wonder whether you Produced?
- I'm assuming something can not develop, and promote someone else ... I am very interested in the profession of producer, but I think I still have not grown professionally. Maybe after many years ...
With the former "Bride" and now a happy wife talked Anna Pavlova
Click here to see this article in russian: Глюкоза: «Муж гонит меня на работу»
pavlova_a
©2006-2020 All rights reserved